Gary Katz is the proprietor of MacM.D., Inc. and an Apple consultant out of Overland Park, KS. When he's not helping clients set up or fix Macs and iOS devices or playing in his band Conviction, he's taking bits and pieces from old Apple gear and turning them into amazing furniture and toys.
To quote Katz, "If you know me, or read this blog, you know that I have a lot of old computer parts. Some would say I have too many. Those people are idiots." Well, recently he took a bunch of old Mac hard drives, super glue, and leather (for the bases) as well as other bits from Mac like Apple logos, power buttons, and circuit boards and made up a bunch of spinners. You know what those are, right? It's a big craze right now to have stuff you can spin with your hands to keep yourself busy. Here's a GIF of some of these spinners in action (and refresh this page if the animation stops):
Pretty cool, huh? The Apple logos and familiar buttons make these especially heartwarming to those of us who have been Apple fans our entire lives. The spinners aren't the only foray into repurposing that Katz has taken. A few years ago, Katz took hundreds (thousands?) of old AOL CDs and created a flashing LED lamp from them. In case you're too young, AOL used to send out CDs almost every day to everyone in the USA, just to get them "on the internet". Most of them ended up in landfills, but Katz created this work of art.
There's a GIF of this LED masterpiece in action on Katz's blog, so be sure to check it out.
Katz also accumulated a lot of broken Apple wireless keyboards, and of course he wasn't about to let them end up in the trash. He made another amazing lamp from four of the keyboards and a piece he grabbed from an old half-sphere iMac:
But wait, there's more! He even turned an original Mac mini into a lamp: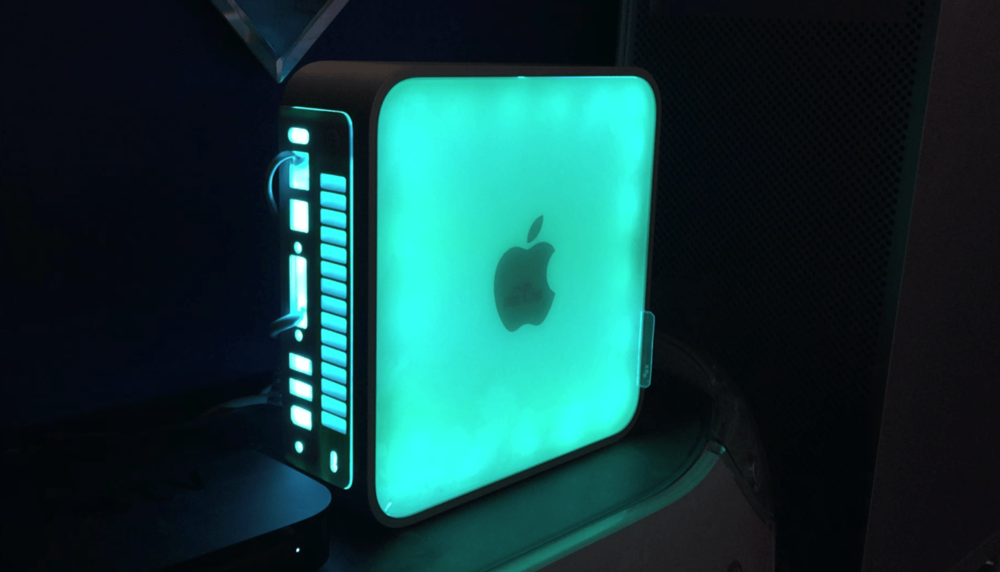 In the writeup on the "keyboard lamp", Katz suggests keeping all of the keys, gluing magnets to the back of them, and using them to write out words on a refrigerator! Next, Katz took an old iPhone and turned it into a business card case:
And one more! Katz took an old Apple iBook and remade it a very sweet iPad sleeve. I love how he used the Apple logo as a "window" into the actual iPad screen:
Last, but certainly not least, Katz took two gutted aluminum Mac Pro cases and worked with a pair of contractors to make a beautiful bench. Katz installed LEDs inside it for a nice touch: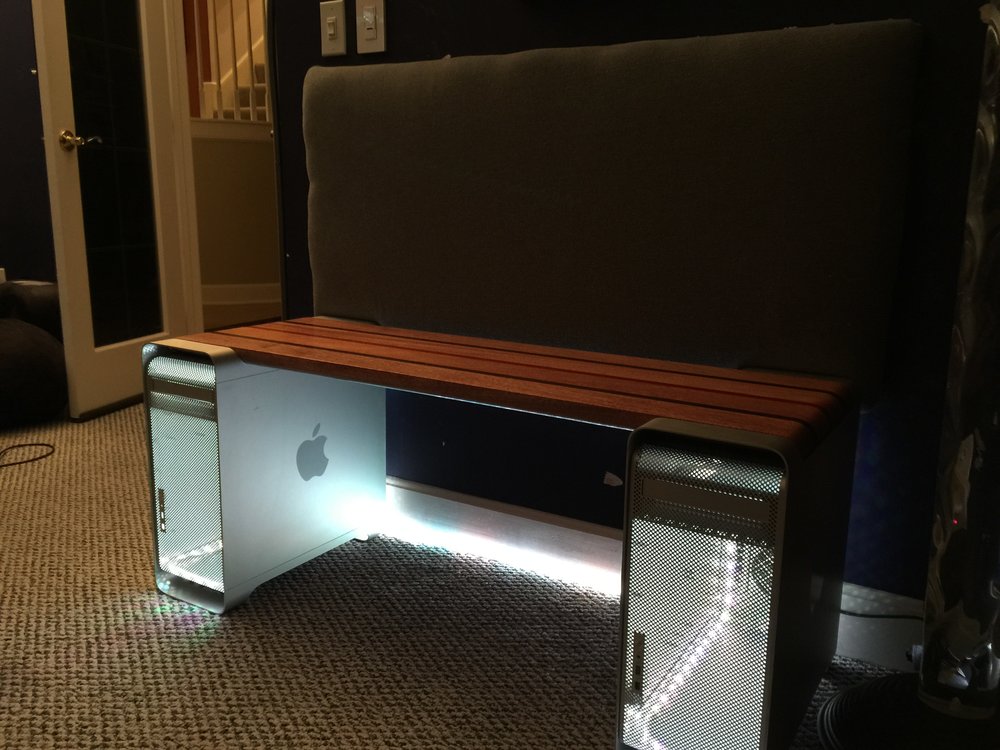 If any other Apple World Today readers have repurposed old Apple equipment into furniture, fun, or works of art, we'd love to see your work! Many thanks to Gary Katz for telling me about his amazing pastime.