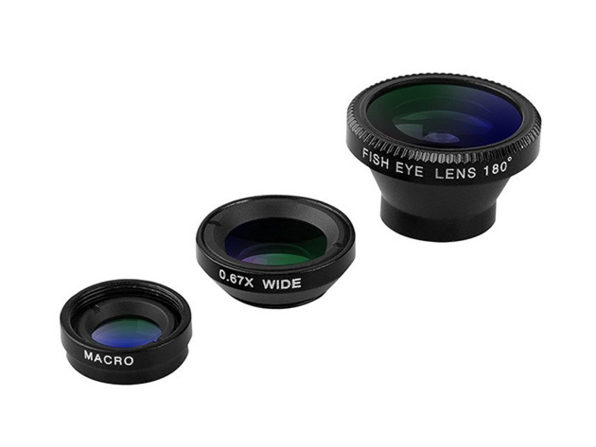 Ask most iPhone photographers what changes they'd like made to their favorite camera and they tell you they wish the camera could take macro or wide angle shots. Those capabilities aren't built into the iPhone yet, but fortunately there are accessory lenses. Don't get caught spending $100 or more on expensive lenses for an iPhone you'll only have for a few years — instead, you can get this Acesori 5-piece Smartphone Camera Lens Kit for $10.
You get five pieces (actually more if you're counting…) — three lenses (a 180° fish eye lens, a Macro Lens for ultra closeups, and a wide angle lens for taking landscape photos and video. Add to that lanyards and lens caps, and you have a full set.
These lenses don't require an expensive case that will be obsolete when the next iPhone appears. Instead, they use stick-on magnetic rings that hold the lens securely to your iPhone. The lens kits come in either black or silver, and if you're feeling extra-generous, you can buy a 2-pack for just $14.99 and give one of the kits to a friend or relative.
Enjoy your summertime iPhone photography with the Acesori 5 Piece Smartphone Camera Lens Kit — buy one (or two) today!