According to a new forecast from the International Data Corporation (IDC) Worldwide Quarterly Mobile Phone Tracker, worldwide smartphone shipments are expected to rebound slightly in 2017 with expected growth of 3% over the previous year. And things are looking good for Apple's iPhone.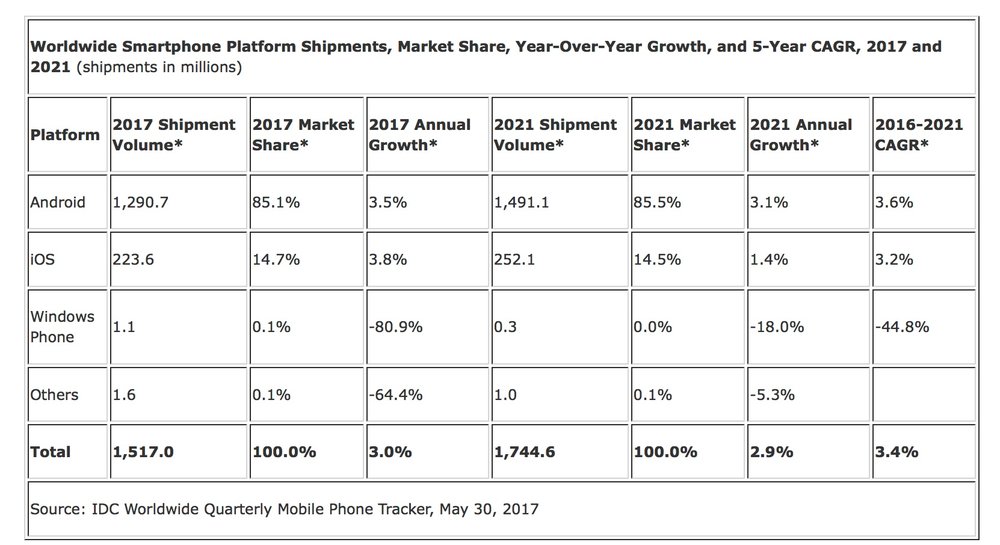 In 2016, year-over-year growth was 2.5%, marking the lowest growth the industry has ever experienced. With several major devices entering the market this year, IDC anticipates shipment volumes will grow to 1.52 billion in 2017. And the research group expects this momentum to carry into 2018, when smartphone shipments are forecast to grow 4.5% year over year, fueled by improved economic conditions in many emerging markets and a full year of new iPhone shipments from Apple.
Coming off the first year in which iPhone shipments declined, expectations are that 2017 volumes will grow 3.8%. IDC slightly lowered its 2017 projections for Apple in this forecast to 223.6 million, while increasing its 2018 volumes to 240.4 million. All signs point to late 2017 and certainly 2018 being very strong for Apple as much of its installed base seems ready for a refresh and the next round of iPhones isn't likely to disappoint its fans, notes the research group.
Despite a slew of very attractive high-end Android products, IDC continues to see Android average selling prices (ASPs) decline and expectations are that the 1.5 billion Android phones that ship in 2021 will have a collective ASP of $198. Looking closer at 2018, the Middle East & Africa region for Android devices is expected to be the fastest growing at 10% year-over-year, which will well outpace the forecast for worldwide growth of 4.1%.