Apple wants to make it easier to manage HomeKit compatible gadgets and its own iOS and macOS devices from a central interface, perhaps on an iPhone, iPad or Mac. The company has been granted a patent (number 20170139801) for "presenting status received from multiple devices."
HomeKit is a framework that allows control of compatible home automation devices through iOS and Siri.
In the patent filing, Apple notes that modern computing devices and wireless connections make gathering and transmitting data easier than ever, but remotely viewing all of this data still faces numerous obstacles. For one, the variety of device types and the volume of data make viewing data from multiple devices unpractical.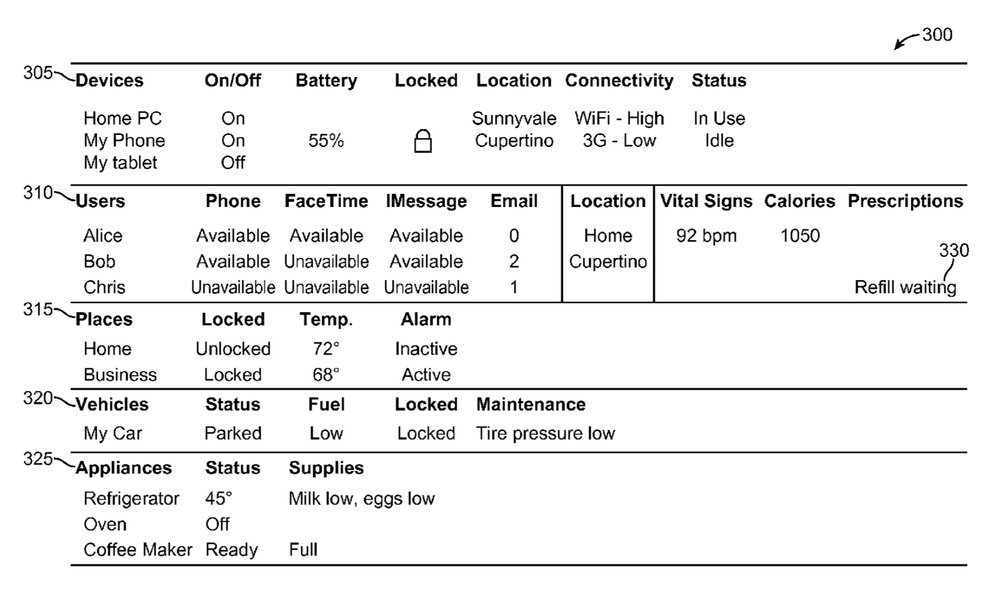 Even if an application or interface is provided, viewing the variety of data requires accessing multiple applications to view the data regarding each application. This is both time consuming and resource intensive and provides the user a disjointed view of the data. Secondly, the technical requirements of creating an interface such as an application to allow data from a device to be viewed remotely can be costly and outside of the expertise of many types of product manufacturers. This is especially true for devices such as appliances like an oven or microwave.
While being able to remotely view data regarding these devices would be useful, creating an application to view this data remotely may not be financially worthwhile for an appliance manufacturer, especially since writing software is not an appliance maker's expertise, and thus may not be available to a user.
Apple says these obstacles result in an underutilization of the current capabilities that computers and networking provide us to share data and thus be better informed to make better decisions. As a result, time and effort are often wasted by uninformed decisions.
For example, being able to quickly determine whether the oven was left on can avoid a wasted trip home or higher utility bill resulting from not returning to turn off the oven. Even smaller tasks such as calling a friend can result in wasted time if his or her cellular phone is turned off.
Knowing what forms of communication are currently available to contact the friend would result in an informed decision and avoid the wasted time. Accordingly, Apple says there's a need for a way to easily share and view data from a plurality of devices so that a user can make informed decisions.
Here's the summary of the patent: "Disclosed herein are systems, methods, and non-transitory computer-readable storage media for presenting status data received from multiple computing devices in a single central interface. A computing device can be configured to gather and transmit status data. Status data can include any type of data known or discoverable by a computing device. The computing device can also be configured to receive status data from other computing devices and display the status data in a central interface.
"This functionality can be implemented as part of the operating system running on the computing device. The computing device can also utilize the received status data to select performance options regarding the performance of the computing device. For example, a computing device can select to disable functionality that requires the availability of a target computing device upon a determination that the target computing device is unavailable."
Of course, Apple files for — and is granted — lots of patents by the U.S. Patent & Trademark Office. Many are for inventions that never see the light of day. However, you never can tell which ones will materialize in a real product.