There are literally hundreds…if not thousands…of drones available for those who want to capture images taken from the air. The Hover Camera Passport (US$499.95) is something different; think of it as a camera that it happens to fly autonomously or under your control rather than a "normal" drone.
I was enthralled by this little drone when it first appeared as a self-crowdfunded pre-order item last fall. Apparently I wasn't the only person who was excited about this device; it quickly went into production and is now sold exclusively at Apple stores. In fact, some Apple retail outlets are actually doing in-store demos of the Hover Camera Passport, as it's safe to fly it indoors.
Let's get some misconceptions out of the way. First, this is not competition to "semi-pro" drones like the DJI Mavic Pro or similar devices. It's made to be a small and very safe aerial camera with limited range and altitude so that it's always under your control. Second, this isn't one of those cheap $99 (or less) crappy "nano-drones" that are seemingly popping up everywhere. It's a high-quality and extremely well-designed product that has some serious computing power under the hood. That being said, let's get on with the review.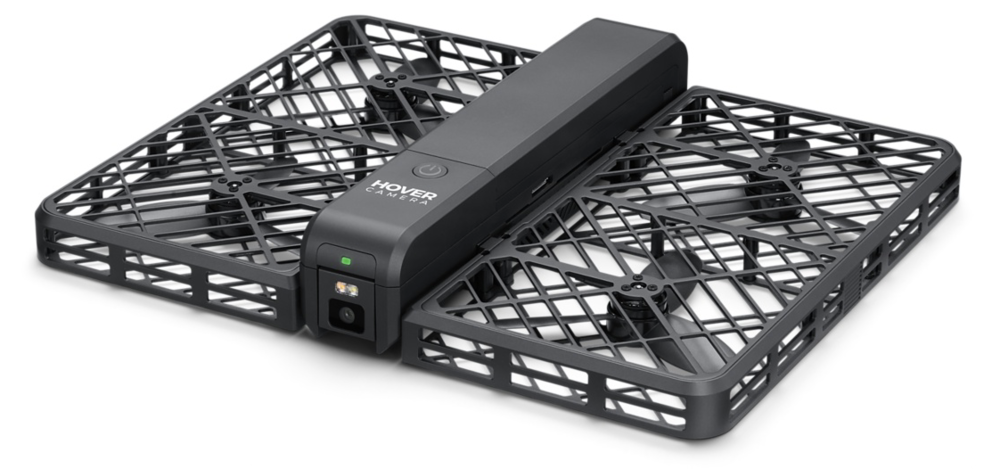 Design
Zero Zero Robotics, the company that designed and markets the Hover Camera Passport, has some top-notch designers. Everything about this product is so "Apple-like" that you'd almost suspect a Jony Ive clone behind the scenes.
The box that it comes in is even Apple-like, with minimal text on the outside on a white semi-gloss surface. Open the box, and the bottom part smoothly and slowly drops away, exactly like Apple product boxes do. Inside the box you'll find the drone, two battery packs (each capable of about ten minutes of flight), and a charging adapter. When I got mine, it also came with a very nice over-the-shoulder carrying bag and a micro-B to USB 3.0 cable for downloading video to a Mac.
The main camera is really quite impressive. Mounted on a small gimbal that rotates up and down for filming and for active image stabilization, the 28mm focal length camera offers a resolution of 4208 by 2120 pixels. It can shoot 4K video and take 13MP photos. The 4K video is stunning, but requires downloading through a cable. Lower-resolution video can be downloaded straight to the controlling iPhone via Wi-Fi. The device has 32GB of non-expandable onboard memory; I haven't been able to fill up that space during individual flights, so the lack of an SD card slot doesn't bother me.
There is no sound with your videos. The motors make enough noise that you'd only hear a loud buzzing noise, so that's no loss. Likewise, if it was following you at a good clip, I'm sure that wind noise would overwhelm any opportunity to pick up on conversations.
Now, let's talk about the drone's physical characteristics. It's reminiscent of an old VHS videotape in terms of folded size. For those of you who are too young to know what I'm talking about, the actual dimensions are 1.3 x 7.16 x 5.19 inches (3.3 x 18.2 x 13.2 cm). It weighs a featherweight 8.53 ounces (242 grams) which puts it well under the limit for FAA registration.
To fly, the carbon fiber "wings" containing the four propellers are folded out. The box-like construction of those "wings" is brilliant, making sure that no fingers or faces will be cut if the drone accidentally runs into another human. But that's unlikely, as the Hover Camera Passport has autonomous collision avoidance built in. Enough of that; let's get to the fun part, which is flying the Hover Camera Passport.
Function
The first thing you want to do is to charge up the battery packs, which will give you about 20 minutes of total flight time. While they're charging, download the Hover Camera iOS app to your iPhone. This app has evolved quite impressively since the first version; it's now designed to let anyone literally fly the drone out of the box, with short video tutorials built in that show off the different camera modes.
The most basic flight mode uses auto-tracking and the device acts like a flying tripod, taking photos either under the control of the app or by recognizing a gesture. You train the drone to recognize you by aiming the camera at your face, then turning your head from side to side. The camera then uses sophisticated AI algorithms to keep you centered in the field of view.
To fly, you simply push the power button and allow the drone to boot. Once that's done, it beeps. From that point, another slight push on the power button starts up the propellors, and when they get to full speed, you simply let go and the camera hovers like magic in front of you.
Move away, and it follows you. Move towards it, and it moves back. Using the app, it's possible to then start shooting video, taking photos, or using manual controls to move the drone around.
When you wish to land the Hover Camera Passport, there's a "land" button. The drone drops down to about two feet off the ground using its radar to determine just how close it is, then settles down softly onto the ground. The auto-land feature works like a champ every time. I've also plucked it out of the air, just using my hand to grab the body while it's flying and then pushing the power button to turn off the props.
But it's the other autonomous flying modes that are so impressive. There's an Orbit mode, in which the drone flies a circle around you while keeping you in the frame. There's a 360 Spin mode, which I love — you can manually fly the Hover Camera Passport up to a good altitude, then have it make a 360° video panorama shot of the surrounding land. And then there are Body Tracking modes for filming your entire body while you're on a walk, run or bike ride.
I've been able to fly the Hover Camera Passport without the accompanying app just to show people how it works, and it does quite well although staying in one place. The range of the device is limited by its internal Wi-Fi network. My personal guess is that it's about 300 feet (100 m).
Initially, I was a bit squeamish about flying the Hover Camera Passport in slight breezes, but it actually does quite well. Sometimes in a stronger breeze it will overcorrect a bit while in one of the autonomous modes, but I think that's due to the short moment arm of the small body — a larger drone could more smoothly counteract any gusts.
One "complaint" I've heard from some people is that it is quite noisy. That's to be expected when you have four small motors spinning at several thousand RPMs! It actually sounds like a busy bee hive, with a lot of humming. Outside, the sound of the Hover Camera Passport isn't as apparent; inside, it will definitely get your attention and scare your cats…
One final comment: I am really impressed with the continued upgrades to the Hover Camera Passport's firmware and the app. Zero Zero Robotics obviously has a lot of pride in this device and it shows.
Conclusion
The Hover Camera Passport is the perfect drone for people who just want a way to take some unique photos and video without having to go through a long learning curve. You can truly take this out of the box and be flying in no time at all. Find out if your local Apple retail store is doing demos of the Hover Camera Passport and I am confident that you'll walk out of the store with one.
Apple World Today rating (out of 5 stars): ★★★★★