iOS 11 and macOS 10.13 — which will be previewed at next month's Apple Worldwide Developer Conference — will offer a new Automator app that integrates the functionality from the recently-acquired Workflow app, according to the Redmond Pie site, citing an unnamed "individual posting about Apple's upcoming plans."
The Sellers Research Group (that's me) says there's a 90% chance this rumor in true. In fact, I mentioned this previously. Redmond Pie says that:
The new Automator will be a first-party app on both iOS 11 and macOS 10.13.
It will offer similar functionality to the App Store-based Workflow, but will come equipped with what is being described as "deeper OS/iCloud integration."
The new Automator app will not only replace the existing app of the same name within macOS, but will also actually replace the Home app.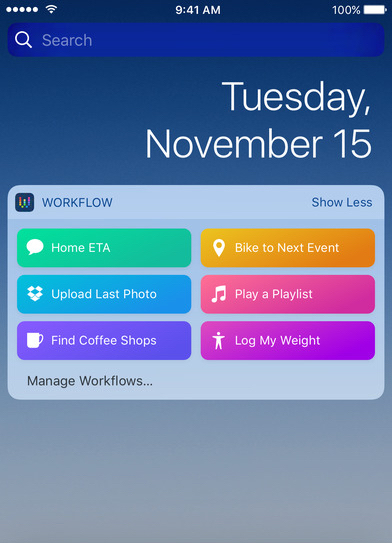 I'm predicting that the last prediction won't happen. Home will remain its own app.
Apple acquired Workflow in March. It's an iOS tool that lets you hook together apps and functions within apps in strings of commands to automate tasks.
Workflow won an Apple Design Award in 2015. The app has been sold at the Apple App Store for $2.99; however, Apple is offering it for free.
Workflow allows you to automate items on your iPhone or iPad by connecting apps and actions. You can create complex workflows that you can start with a single tap. Workflow contains over 200 actions, including those for Contacts, Calendar, Maps, Music, Photos, Camera, Reminders, Safari, AirDrop, Twitter, Facebook, Dropbox, Evernote, iCloud Drive, and Health, to name a few.