The new Dubai Mall Apple store has been open one day, and the videos and photos from Apple show just how beautiful this new retail outlet is. It's located in downtown Dubai, overlooking the Dubai Fountain (and in fact providing a balcony for watching the nightly fountain shows), and within sight of the world's tallest building, the Burj Khalifa.
Pictures (and video) speak louder than words, so feast your eyes on the video and photos from Apple.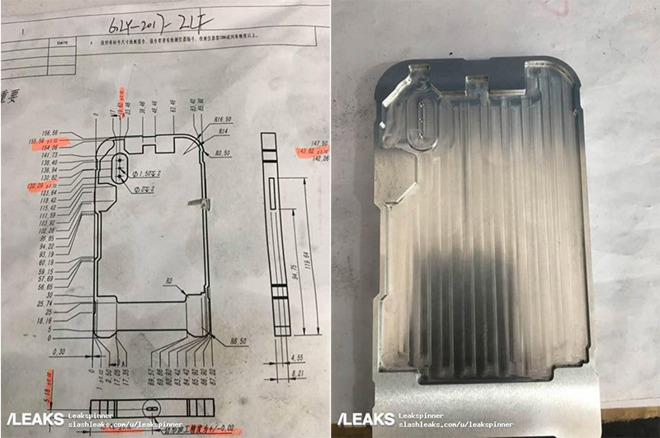 It's the last AWT News Update of the month! Today we have:
New photos emerge showing an alleged manufacturing mold for an iPhone 8 with all the right openings in all the right places
Foxconn Chairman Terry Gou met with President Donald Trump today, says that the iPhone manufacturer is planning several US investments
Apple's self-driving test cars are on the roads, and Apple responds to California DMV requests for comments on testing protocols and reporting requirements
The text version of the podcast can be viewed below. To listen to the podcast here, click the play button on the player below. Note to Apple News readers: you'll need to visit Apple World Today in order to listen to the podcast.
Text Version
This is Steve Sande for Apple World Today, and you're listening to the AWT News Update for April 28th, 2017.
Somebody call a plumber, there's been another leak. Well, this is another of a series of leaked photos and schematics this week that allegedly show us all what the iPhone 8 (or whatever the heck it will be called) will look like and what kind of goodies are under the hood. Benjamin Geskin shared three photos today on Twitter marked as "iPhone 8 mold and diagram". The first photo shows a schematic similar to that we've seen earlier this week, with cutouts for a vertical dual-lens camera, the Lightning port and the power button. But the interesting photos are the two that show molds milled from metal that closely adhere to what's seen in the schematic. There's no cut-out for a back side Touch ID, which means that either Apple has figured out the supposed issues with embedding Touch ID sensors into the display, or this mold isn't used at a point in the manufacturing process where an opening would be added.
Hon Hai Precision Industry Company is also known as Foxconn, the company that manufactures iPhones for Apple in China. The chairman of that company — which employs almost one million people in China — is a man by the name of Terry Gou, who met with U.S. President Donald Trump today. Leaving the White House after meetings with Trump, Gou said that the company is planning several investments in the US. Reuters went on to say that although Foxconn hasn't finalized its plans, it could be looking at building factories in the US and invest in other projects. Foxconn's plans are in response to Trump's "Made in America" promise, and rumors have included a highly-automated $7 billion plant to manufacture OLED panels for iPhones. Gou said the company's plans aren't yet settled, but that numbers on planned investments would be shared with the media in a few weeks.
No sooner have Apple self-driving test vehicles started hitting the streets of California than word comes that the company is lobbying the California Department of Motor Vehicles to alter test protocols and reporting requirements for automated vehicle testing. The letter to the DMV from Steve Kenner, Apple director of product integrity, suggests that the DMV tighten up what is called "disengagement reporting" – in other words, not reporting things like planned tests, the end of testing, situations where a safety driver disengages an automated system. The company also wants out of a requirement to speculate about what kind of event, an accident for example, would have occurred if a safety driver hadn't disengaged the system. What Apple wants is to only have to report actual disengagements — unexpected events or failures that require the safety driver to take over control in order to prevent a crash or traffic law violation. Apple comments to the California DMV also amend and clarify its positions in the area of testing without safety drivers to make sure that test vehicles without drivers have a way of safely stopping on their own. Apple says that it is "in the interest of increasing public trust in automated vehicles" for the DMV to make sure that the public is aware that the vehicles have a fallback capability other than a safety driver.
That's all for today; I'll be back Monday afternoon with another edition of the AWT News Update.