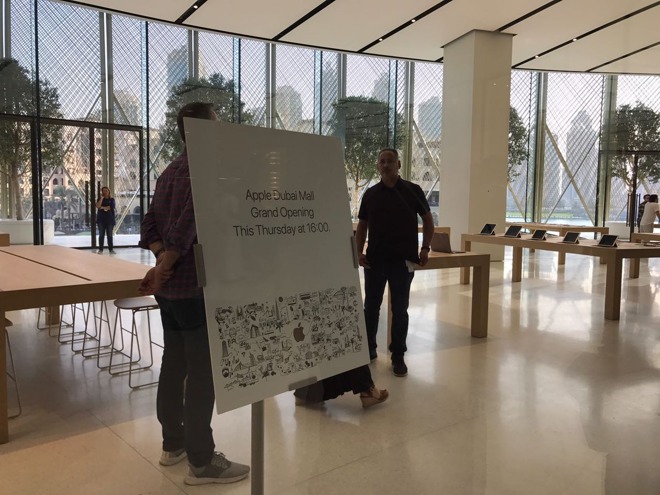 On Thursday, April 27, Apple is set to open a new eco-friendly retail store in Dubai at the Dubai Mall. The store was designed by Foster + Partners — an architectural firm that has worked with Apple on many of the flagship stores — and features 18 "solar wings" that not only help to shield the sun during hot days, but are also considered one of the world's largest kinetic art pieces.
The "wings" mimic the purpose and artistic sense of the traditional Arabic "Mashrabiya", and are seen in the photos accompanying this post as the latticework over the windows. They're 37.5 feet high, and are each made up of 340 carbon fiber reinforced polymer rods. The wings cover the entire 180 glass facade of the building, providing shade during the day and opening fully at night.
Apple has two other stores in the UAE, another in Dubai and a third in Abu Dhabi. The two existing stores first opened 18 months ago and have been host to over 4 million visitors.
A balcony in front of the store overlooks both the Burj Khalifa and the Dubai Fountain. It's expected that the Apple Dubai Mall store will serve as a local community gathering point from which to watch evening fountain shows.