I've been testing Yunmai's $66.99 YUNMAI "intelligent body composition scale" for about a week and find that it's iPhone integration is helpful and it's very accurate in tracking your weight. However, like every other "smart scale" I've tried, it doesn't accurately measure body fat. More on that in a second.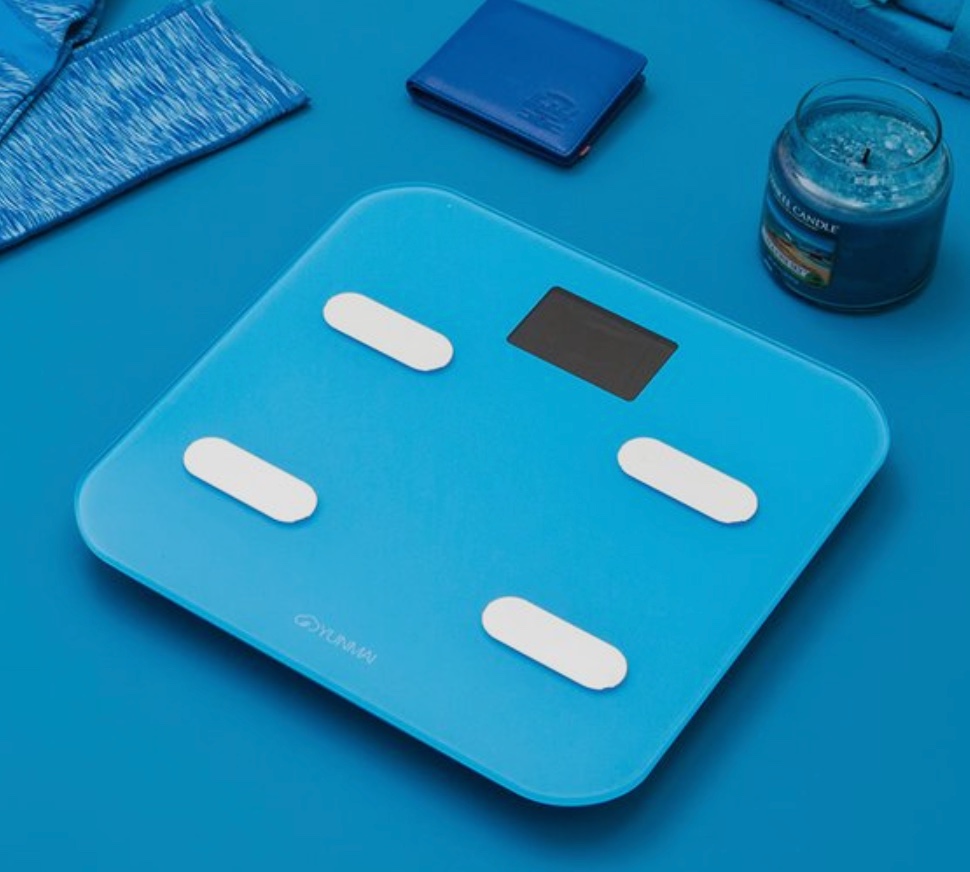 The YUNMAI keeps track of body statistics through a free iOS app that can be downloaded to an iPhone (alas, there's no iPad support yet). According to the folks at Yunmai, it records body statistics through bioelectrical impedance analysis (BIA), a method of estimating body composition. BIA measures weight, fat, body mass index (BIA), muscle, visceral fat, bone mass, water, basal metabolic rate, body age and protein
The YUNMAI sports four pressure sensors and four human body sensors for its readings. The iOS app keeps track of daily, weekly, monthly and yearly weight changes, allowing you to set weight goals and set reminders to weigh in. For example, you can enter your target weight and, whenever you weigh in, the app well tell you how much progress you've made and still have to make.
Conveniently, the Yunmai app can manage 16 profiles, so it can store metrics for all members of a large family, as well as some friends. Each user can sync their own smartphone or share a single app and create profiles in Family Management. If users only have individual profiles in the app, the scale will only sync data to each person's device.
Other users won't have access to your data unless you permit them to add your profile to their app. You can use your personal mobile device and app account to maintain privacy.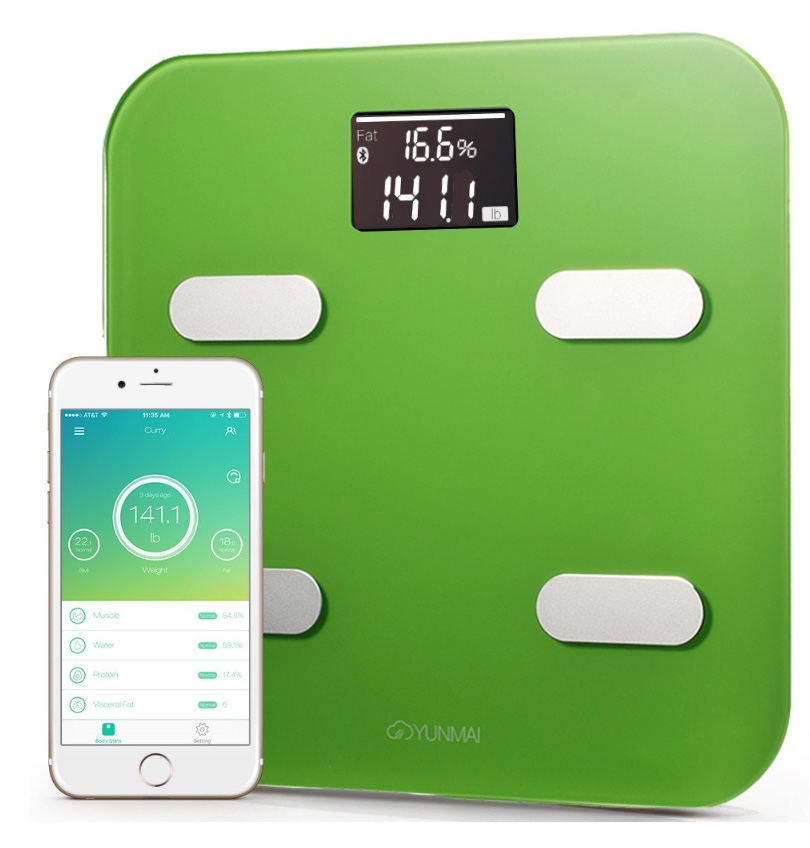 Another nice touch: the app syncs with Apple Health, Fitbit and Google Fit for health data integration. To accomplish the syncing, go to Me—User Settings on your scale and connect to Apple Health, Google Fit, or Fitbit. On an iPhone, Fitbit will sync the latest data only if you fully exit the Fitbit app (double click the home button and swipe up) and reopen it.
There are two ways to transfer data between the scale and mobile device. If your smart device is near the scale when you weigh yourself, the app will automatically connect to the scale through Bluetooth and will transfer body metrics into the device immediately.
If you weigh in without your iPhone or iPad nearby, the data will be recorded into the scale and will be sent to the Yunami app when the scale wireless connects to your device.
The Yunmai app allows you to change units of measurement from pounds to kilograms and vice versa. Open up the app and click "Me" at the bottom. Along with your personal information, it has a button to select "Lbs" or "Kg." The unit of measurement you select is highlighted in white.
The smart scale itself — available in blue, gold, green, pink, white and yellow — features a sleek, attractive design with a four-inch LCD display that shows your weight and percentage of body fat
The YUNMAI is equipped with Bluetooth 4.0, so pairing it with an iOS device is a breeze. It requires four AAA batteries (which come in the package; thank you, Yunmai).
Now about the body fat issue. As an avid runner who's about to start training for an August mini-triathlon, I paid to have my body composition tested using air-displacement plethysmography via a "BOD Pod." First, participants sit in a small machine. Then, by measuring how air displacement by the individual, technicians can determine body density.
At 159.3 pounds, I had a body fat measurement of 12.6%. Air-displacement plethysmography is considered one of the best ways to measure body composition, so I use the BOD Pod results as my base index.
However, according to the YUNMAI, at 159.3 pounds, I'm 22.7% body fat. That's a major difference.
With that in mind, I'd recommend the YUNMAI to keep track of your weight and to track changes in body fat, though not body fat percentage itself.
Apple World Today Rating (out of 5 stars): ★★★★