Apple has been sitting on its hands, literally doing nothing with most of the Mac desktop lineup. Sure, we've seen fairly recent updates to the MacBook and MacBook Pro lines, and the iMac received a speed bump a few years ago, but the company has totally ignored both the Mac Pro (last updated 12/19/2013) and the Mac mini (10/6/2014). Now HP has released a new desktop box called the HP Elite Slice Desktop that puts the Mac mini to shame in terms of size and expandability.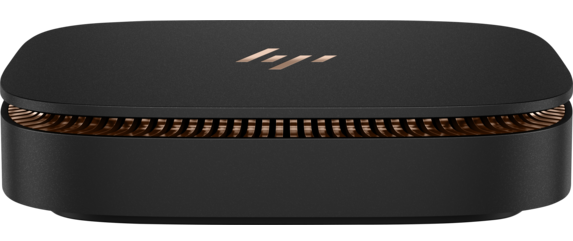 This thing makes the Mac mini look downright dated. It's in a sleek black box with cooling slots along the top that is only 6.5 x 6.5 x 1.38 inches big. By comparison, the Mac mini is 7.7 inches on a side. But the one feature that impressed me the most is that there's a modular architecture that provides connectivity to "slices", which are modules that stack with the HP Elite Slice Desktop.
Those slices include an ODD (Optical Disk Drive) module for reading media and doing backups to DVD, an HP Audio Module designed in collaboration with Bang & Olufsen, and a VESA plate module for mounting the HP Elite Slice Desktop to a desk or wall. There's even a special Meeting Room version that turns the little PC into a powerful videoconferencing tool.
Unlike the Mac mini, which is so old that it doesn't support USB-C, the Elite Slice has a pair of Type-C ports supporting USB 3.1 in addition to two USB 3.1 Type-A ports, one Display Port, an HDMI port, and an RJ-45 Ethernet jack. There's an entire spectrum of Intel Skylake i3, i5 and i7 CPUs available, and prices run from $699 to $999. The Mac mini starts at $499 and goes up to $1,499 if you add a Intel Haswell 3.0 GHz i7 CPU, 16GB of RAM, and a 2TB Fusion Drive.
HP isn't using the latest "Kaby Lake" processors in the Elite Slice, but the Skylake CPUs are at least 6th-generation. Apple's still using the 4th-generation Haswell CPUs.
The Slice Elite can have two drives installed, up to a 1TB Turbo Drive (sounds like a Fusion Drive) and a 512GB SSD. It can be expanded up to 32GB of RAM through two SODIMM slots, while guess what? The Mac mini's RAM is no longer user-upgradeable…
It's tempting to think about taking an HP Elite Slice Desktop and turning it into a "hackintosh", since Apple seems to be ignoring the Mac mini. That's what is happening over at TonyMac86.com, where people who are irritated with Apple's slow pace with upgrades for the Mac Pro and Mac mini are piecing together their own machines to run the superior macOS.
Perhaps Apple doesn't sell enough Mac minis to make an upgrade worth its time and effort, but selling a few is better than selling none. If Apple doesn't upgrade the Mac mini soon, it may as well get rid of it as it is already obsolete.