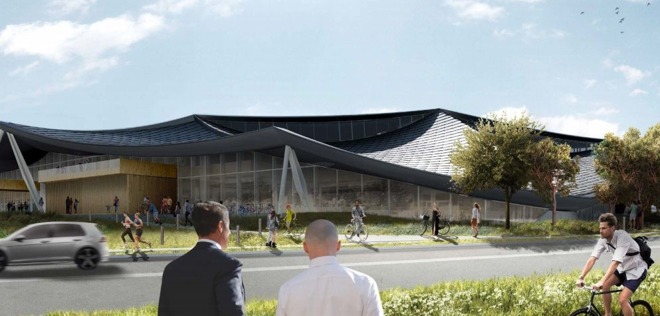 We have news from around the world of Apple today, including how a nearby neighbor has scaled back headquarters building plans and more:
Google's grandiose plans for a huge, glass-enclosed "city" as a corporate campus have been drastically scaled back
Apple retail stores in Jacksonville, FL, Nanjing, China, and Grand Rapids, Michigan are either opening soon or are in the planning loop for expansion
Apple Genius Bar employees will no longer get the opportunity to travel to the "mothership" for hands-on training
The text version of the podcast can be viewed below. To listen to the podcast here, click the play button on the player below. Note to Apple News readers: you'll need to visit Apple World Today in order to listen to the podcast.
Text Version
This is Steve Sande for Apple World Today, and you're listening to the AWT News Update for March 9th, 2017.
It doesn't look like the soon-to-open Apple Park will be rivaled by any fancy corporate headquarters elsewhere in the Bay Area for a long time to come. Google had unveiled some plans a few years ago showing a huge open air city inside a glass greenhouse atrium. Instead, the company is now looking at a much scaled-back plan called Charleston East that will be directly east of the existing Googleplex campus. Rather than the huge glass structure originally planned, the company is looking at a much more conventional 595,000 square foot building with a tent-like opaque roof. Like Apple Park, the building will feature photovoltaic power panels build into the roof, although only 4MW of capacity will come out of Charleston East compared to the 16MW of capacity provided by Apple Park. The central spaceship building at Apple Park is over four times as large at 2.8 million square feet, and even the R&D facility built next to the spaceship has more space than Charleston East.
With the untimely death of the proprietor of the old ifoAppleStore website a few years ago, we lost a valuable source of continuing information about Apple Store openings. However, AppleInsider has kept up with a lot of the news, and they're reporting that a new, relocated and larger Apple store in Jacksonville, Florida will open this Saturday at 10 AM local time. The store at St. Johns Town Center will be at 4835 River City Drive, occupying 9,100 square feet of space at a former Forever 21 store. That store will be about twice the size of the original store, offer better parking, and will most likely offer the wooden shelves and oversized video display seen in many of the renovated stores. A new outlet will open in Nanjing, China in Jinmao Place towards the end of this month, with an ornate staircase being the centerpiece of the new store. There are other stores in Nanjing, a city of over 8.2 million people. Finally, the Woodland Store in Grand Rapids, Michigan is expected to double in size to about 8,000 feet, although no timeline has been published for that store's renovation.
Remember the story about the Genius Bar and Steve Jobs from the other day's podcast? Well, one of the standard pieces of training for Apple Geniuses has always been a trip to either Cupertino, Austin, TX or Atlanta, GA for hands-on training that lasts up to three weeks. Word has it that Apple is no longer offering those trips to new hires. The Genius Training program is now done as an in-store, self-guided experience with web-based seminars done through ATLAS — the Apple Technical Learning Administration System. At Cupertino, Apple had a mock Genius Bar and would bring in Macs for trainees to disassemble and perform tests and repairs on. In the web-based seminars, Apple only provides virtual take aparts with no physical hardware to be found. The former training experience was very popular with Genius Bar employees, who called it a "life-changing experience" and a "rite of passage". I personally recall being on a flight to San Jose, CA a few years back to attend a conference in Cupertino. A number of people on the plane were going for Genius Bar training and noticed my Apple logo polo shirt, so they thought I was a fellow employee. They were excited about the training and thrilled about visiting the mothership; now it looks like new hires will lose out on that experience.
That's all for today; I'll be back tomorrow afternoon with another edition of the AWT News Update.