Apple has applied for a patent (number 2017006892) for an "integrated component cap and spacer for a battery pack," which hints at battery packs that could attach to Mac laptops, iPads and iPhones, something already provided by some third parties.
The battery pack includes a cell with a spacer, and a cap mounted on the spacer. The spacer and cap are mated to form a cavity to accommodate the components (i.e. busbars, circuit board, an insulator) of the battery pack.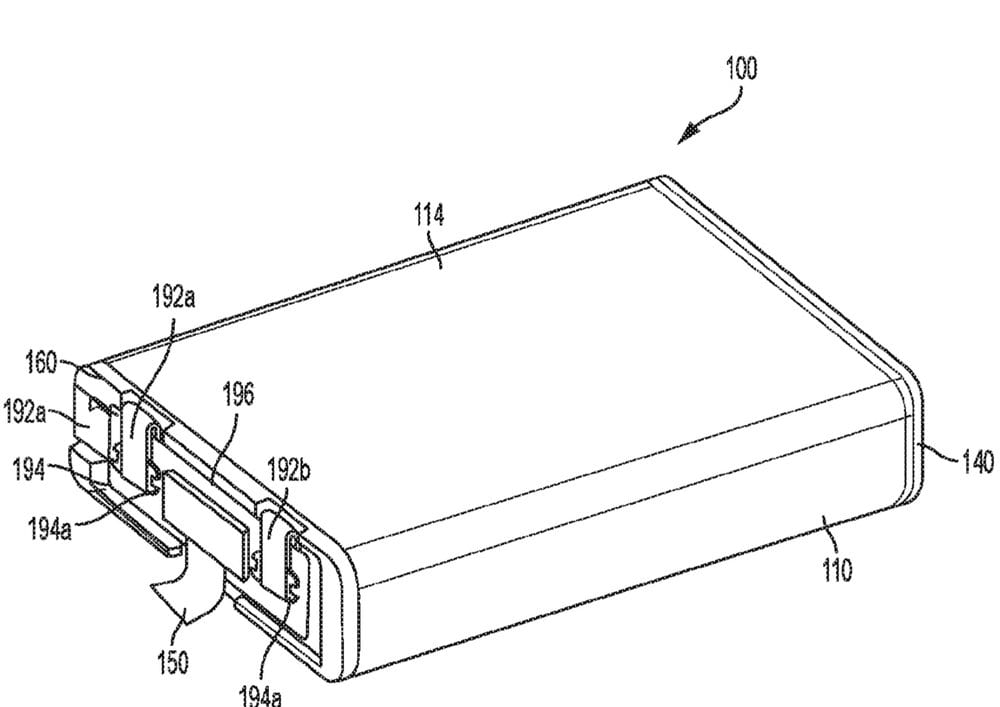 The spacer and cap have a series of mating surfaces for the components, wherein the mating surfaces have different heights to be recessed relative to each other to create spaces for accommodating the components. The recesses, channels, steps and raised portions correspond in geometry to the components so that they can be assembled while removing the tolerance accumulation associated with multiple standoffs.
In the patent filing, Apple notes that the technology for portable devices — such as laptop computers, tablets, electronic-book readers, portable web-browsers, mobile phones, fitness trackers and smart watches — has developed and the use of portable devices has increased, the demand for secondary or rechargeable batteries for use as an energy source has increased.
Secondary or rechargeable batteries are often used in the form a battery pack. A battery pack can include the battery cells as well as protection devices, electronic circuits, interconnections and connectors. The design of the package or housing of the battery pack depends on the components it has to accommodate and the physical protection it has to provide for them.
However, it can be important to limit the overall size or volume of the battery pack. As the battery pack is often integrated into a portable device, the space the battery pack consumes within the device limits the space for the inclusion of other components and/or can lead to an increase in the overall size the portable device. Apple says there's a need to streamline the size of the battery pack while still accommodating and physical protection to the components of the battery pack.
Of course, Apple files for — and is granted — lots of patents by the U.S. Patent & Trademark Office. Many are for inventions that never see the light of day. However, you never can tell which ones will materialize in a real product.