By Frank Petrie
I was fortunate enough last year to receive a press invite to test drive the Setapp beta. I was more than happy to roll up my sleeves and start using it.
At first, it took a little getting used to. After all, it wasn't part of my usual, daily workflow. Up until that point, I would religiously check Macupdate (www.macupdate,com) and Apple's App Store daily for any available updates to my existing software. Now I needed to include Setapp into my daily routine.
As it was still in beta, putting its user interface and such in a constant state of flux, that added some awkwardness. But as the product evolved, and I began to use it regularly, it didn't take long to become an integral routine.
It even made me appreciate Apple's Notifications more because it made integrating Setapp so easy. It's great to boot my iMac each morning and find a notification that there were new additions to my Setapp folder, right along with any notifications of updates from the App Store! (And if I spent the extra money, I could also automate Macupdate. But I'm cheap.)
Being able to test drive said apps without having to purchase them before I could even determine if they satisfied my needs made the experience unique. (Isn't that the Holy Grail that we have all been waiting for the App Store to provide?) And should I decide that after a test drive that the app wasn't of use to me, I could uninstall it and it return it to 'teaser' status.
The number of apps is steadily growing. Because Setapp is a product of Macpaw, you may run into a situation were you already own some of their apps, such as Clean My Mac 3 or Gemini. Ulysses is an instance were another developer has decided to sell their app in both the Apple Store and include it in Setapp.
This can lead to a few initially confusing situations. If you already own a copy of an app, understand that the copy that you purchased in the App Store is treated by your computer as a distinctly separate app than the one that resides in your Setapp folder. So for example, the version of Ulysses that I purchased from the App Store is populated with previously composed articles and documents. If I was to launch the copy of Ulysses from within the Setapp folder, those documents would not appear in that copy's Library.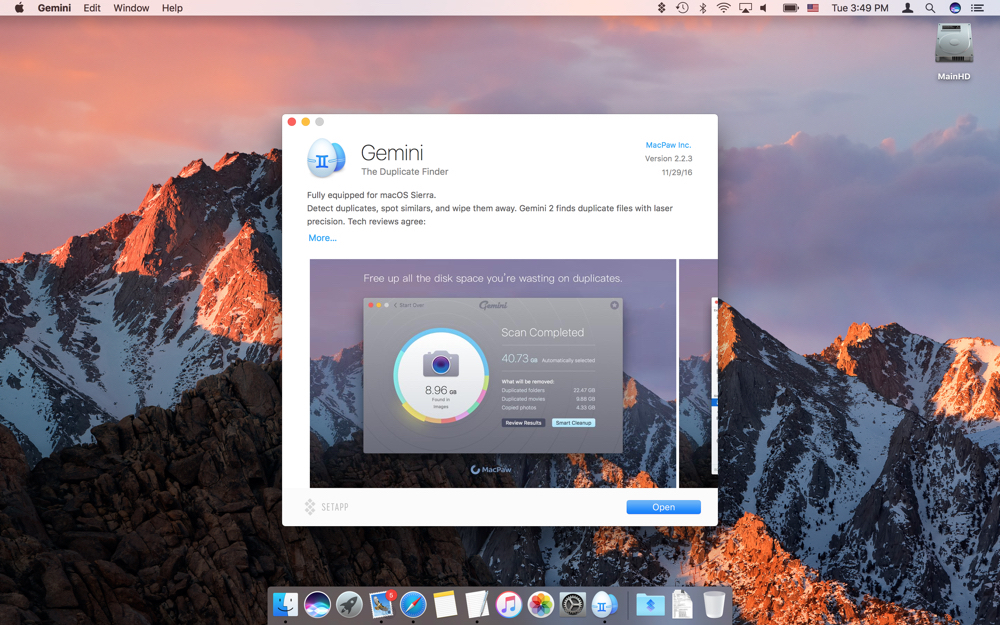 I ran into another easily remedied situation. I downloaded two apps from the Setapp folder, tried them out, and decided that they were of no real use for my situation. I then launched my App Store version of Clean My Mac 3 and unistalled the two aforementioned apps. But the 'teaser's' didn't return to the Setapp folder.
I contacted Macpaw and found out that the "teasers" should reappear automatically, but if they don't try locating the "Restore Hidden Applications" item in the Setapp menu. This will restore the removed 'teasers.' However, mine reappeared on their own after a day or two.
If you should have any questions regarding Setapp, they have a great Knowledge Base located on their website.
I now find myself taking Setapp for granted. I know that if I'm looking for a photo editing app, I move my cursor over the MenuBar's Setapp icon and type "photography" into the search field, which will present me with a list of relevant apps to choose from.
Also, because it is a subscription service, Setapp upgrades ALL apps (even my downloaded ones) in the background. I spend zero time maintaining my apps and focus solely on the task at hand. Nice.
In conclusion, when I first used Setapp, I was impressed but didn't see it as anything that I had to have. But as the number of apps continues to grow, I find it to be more and more of a boon.
I recommend that you give their 30-day free trial a test run. I think you'll be pleasantly surprised.