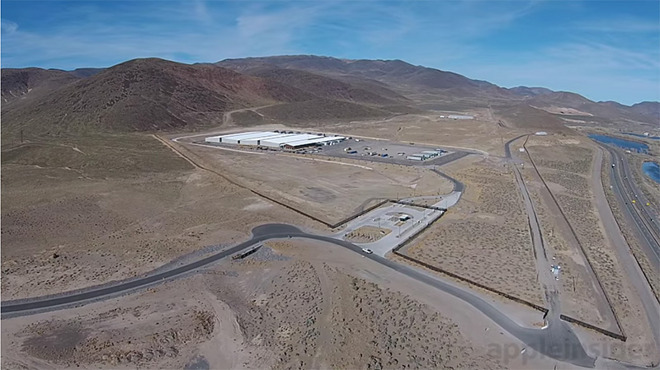 We're back today with another edition of the Apple World Today News Update podcast. It's all Apple today, since there were no juicy tidbits to spill about Samsung:
Apple's expanding its data center footprint in Northern Nevada
Three news agencies testify in court to have the US Government force the FBI to admit who hacked the San Bernardino iPhone 5c and how much it cost taxpayers
iPhone 8 rumors now point to a device with a larger screen and smaller total footprint, along with lots of RAM and storage
The text version of the podcast can be viewed below. To listen to the podcast here, click the play button on the player below. Note to Apple News readers: you'll need to visit Apple World Today in order to listen to the podcast. 
Text Version
This is Steve Sande for Apple World Today, and you're listening to the AWT News Update for February 21, 2017. Note that I'm currently traveling, so the podcasts will be done at unusual times, if at all. My AWT buddy Dennis Sellers will fill you in on news bits on those days when I'm unable to podcast.
Apple appears to be ramping up its data center plains in Northern Nevada with a permit filing earlier this month for what's called Project Isabel. That project is a $51 million plan to build a 373,000 square foot data center including an admin building, parking garage and generator yard. Apple also plans to expand its solar energy operations with an additional 200 megawatts of generation that will be in service by the end of 2019. Apple is also working on another data center under the code name Project Huckleberry — it's at Apple's existing Reno-area data center and adds data centers and support buildings to the existing facility.
Three news agencies yesterday asked a federal judge to force the FBI to report how much it spent on tools to unlock an iPhone belonging to the shooter in the San Bernardino terrorist attack. The Associated Press, USA Today, and Vice Media have petitioned the court for information about the hack under the Freedom of Information Act, with requests narrowed down to two items that cannot by any means jeopardize national security — the cost and the source of the hack. The lawyers for the media companies said that the government invoking national security exemptions to the FOIA to try to hide simple information. In a statement, the lawyers said that "Release of this information goes to the very heart of FOIA's purpose, allowing the government to access government activity. Here, the decision to pay public funds to an outside entity in possession of a tool that can compromise the digital security of millions of Americans." Estimates for the amount paid vary from "less than $1 million" to "$1.34 million", and the tool is believed to come from Cellebrite, an Israeli digital forensics firm that sells a product called the Universal Forensic Extraction Device to law enforcement agencies to extract data from smartphones.
And now for your iPhone 8 rumors for the day. TrendForce reported that the new high-end iPhone will have a 5.8-inch OLED display, but that Apple is forgoing a curved display due to issues with manufacturing those screens in the quantities required by the company. The physical home button is once again rumored to be disappearing from the iPhone, giving the device an aspect ratio of greater than 2 to 1 (2 high to 1 across in portrait mode) in a body size about that of the 4.7-inch iPhone 7. TrendForce goes on to say that the new phone will feature 3GB of RAM — same as the existing iPhone 7 Plus — and will come in 64GB and 256GB storage capacities. So, if these rumors are correct, we can expect a larger than iPhone 7 Plus screen in a form factor about the same size as an iPhone 7. We'll be hearing all about the iOS version that will run on the new phone — iOS 11 — in June when the Apple WorldWide Developer Conferences unveils all the details.
That's all for today; I'll be back tomorrow — maybe — with another edition of the AWT News Update.