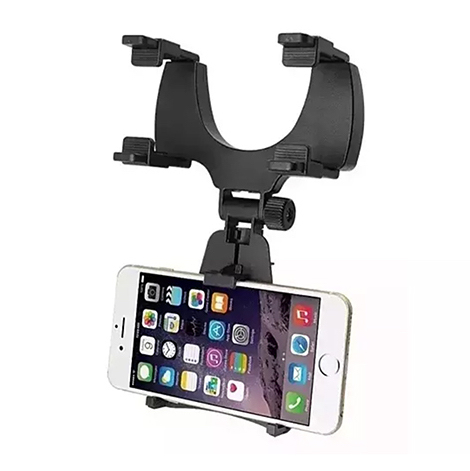 Smartphone mounts for cars are nothing new, but most of them have one of two failings. First, if they use some sort of suction cup or friction pad to hold onto the dashboard or window, chances of having the entire assembly — smartphone and all — come crashing down while you're driving are pretty good. Second, if they use a vent clip to hold the smartphone in place in front of a car air vent, the phone can either get too hot in the winter with the heat on or quite chilly in the summer with the A/C cranked up. Today we have a deal on the Sky Innovations Eye Level In-Car Smartphone Holder ($23.95), which eliminates both of the shortcomings with a clever design.
This mount is ingenious — it clips onto the rear view mirror so you can quickly glance at the GPS directions on the iPhone screen while taking a look at what's going on behind your vehicle. It's within your reach for putting calls onto speaker phone with a tap, and the unique clamping design ensures that the iPhone stays in place just below your rear view mirror.
Normally this smartphone holder sells for $49.95, but you'll be able to get it at a whopping 52% discount through the Apple World Today Deals Shop. Pick one up today!