Twelve South has done it again — earlier this week, the Charleston-based design house that creates accessories just for Apple products announced the MagicBridge ($34.99). Like an earlier product called the MagicWand, the MagicBridge is designed to hold both an Apple Wireless Keyboard and Magic Trackpad 2 side by side. The result? Your trackpad doesn't "wander" the desktop when you're using it and the two accessories look like one big keyboard.
Design
As with all Twelve South products, a lot of thought went into the design of the MagicBridge. It's set up in such a way that the trackpad can be placed either on the left or right side depending on personal preference. A thin silicone pad sits under the keyboard to keep your typing quiet, and that pad can be moved to the other side of the MagicBridge for left-handed trackpad use.
Both the Magic Trackpad 2 and the current iteration of the Apple Wireless Keyboard use a Lightning cable for recharging, so easy access to the Lightning port on the accessories was imperative. Twelve South solved this issue by placing twelve small openings on the back of the MagicBridge that are spaced perfectly for accessing the ports and the device switches.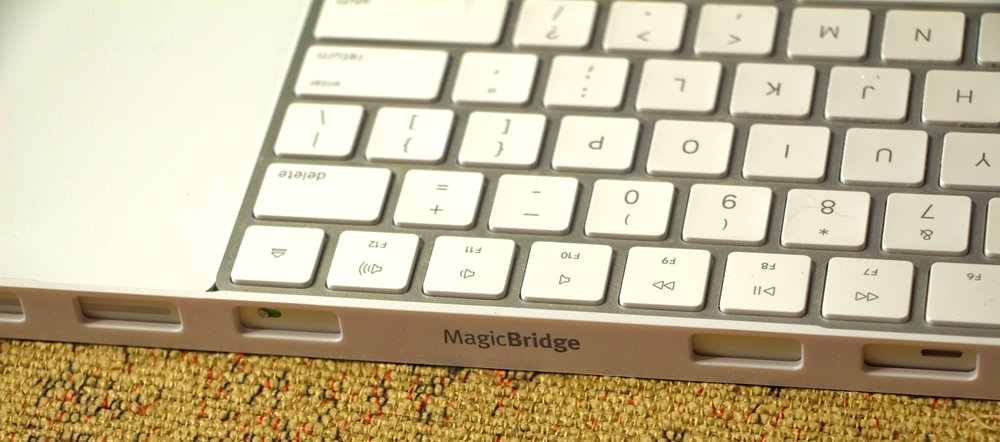 To keep the entire assembly from sliding as you type or use the trackpad, there are six silicone feet on the bottom of the MagicBridge. Want to remove the accessories? There are amply-sized holes on the bottom of the MagicBridge that you can use to push the keyboard or trackpad out.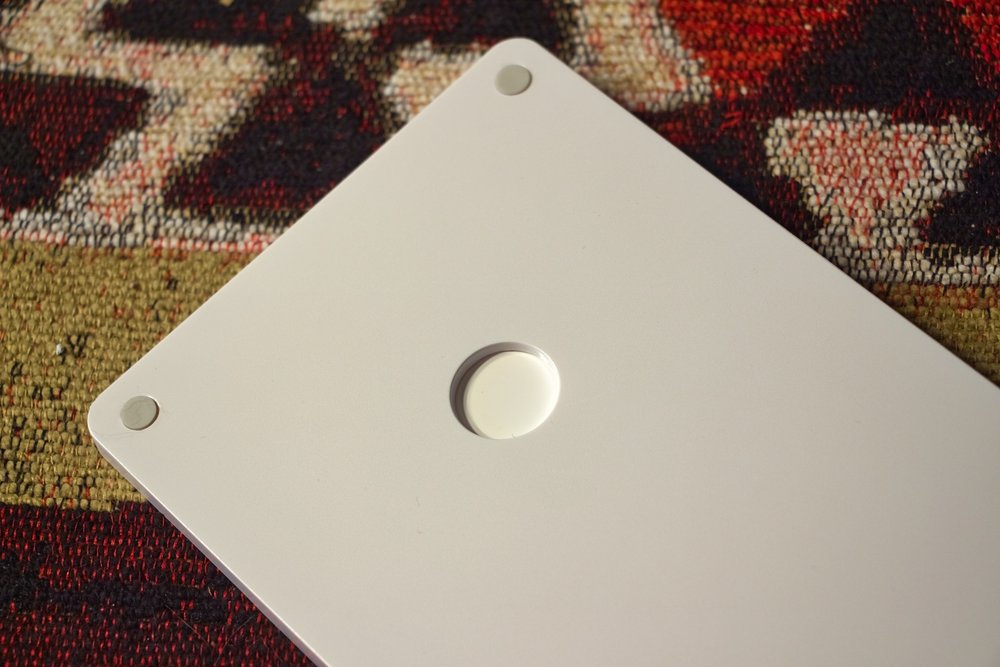 Jony Ive might disagree, but the MagicBridge looks like it was designed by Apple.
Function
The MagicBridge is the accessory I've been waiting for since I first got my late 2015 27-inch Retina Display iMac. With previous keyboards and trackpads I've used the MagicWand or a competing product from another vendor, but nobody seemed to be making a "tray" for the new Apple Wireless Keyboard and the Magic Trackpad 2.
It works like a champ. Just after pushing the Magic Trackpad 2 into place on the right side of the MagicBridge, I temporarily lost the ability to click; that was resolved quickly by seating the trackpad with a more firm push.
The combination of the silicone pad behind the keyboard and the feet on the bottom of the MagicBridge do a great job of quieting the tapping and clicking normally associated with Apple's input devices, and the combination of MagicBridge, keyboard, and trackpad stays put.
Conclusion
Anyone who uses the combination of the Apple Wireless Keyboard and Magic Trackpad 2 needs to get a Twelve South MagicBridge — it's that simple. Is it too early to give this a 2017 product of the year award?
Apple World Today Rating (out of 5 stars): ★★★★★