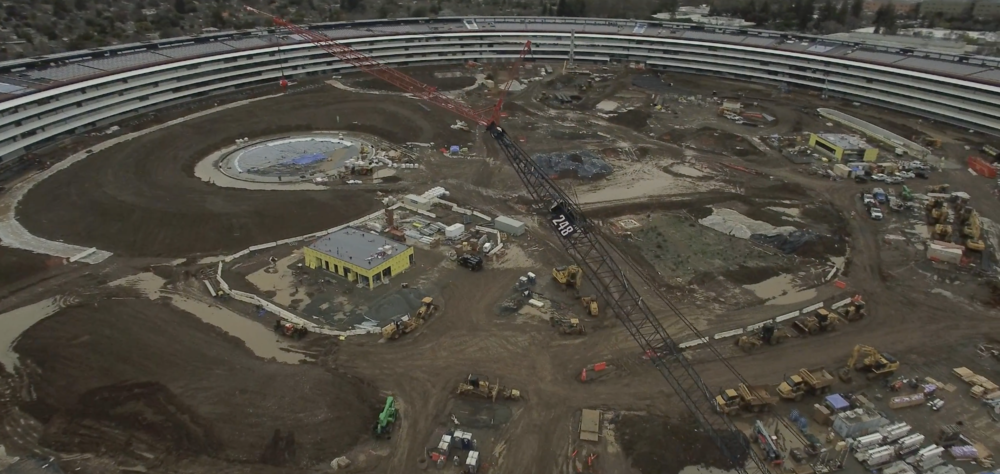 It's 2017, and this is the year that Apple Campus 2 will be ready for employees to move in. We've been enjoying the videos from Matthew Roberts as the facility has gone from piles of dirt to almost complete, and today's video shows that solid progress is being made towards getting the facility open.
Recent rains have made a muddy mess of a lot of the site, but work continues on construction and landscaping. Roberts estimates that about 65% of the solar panel installation is completed at this point, and a shot of the "Spaceship" structure's atrium shows just how big that area will be. The drone footage shows the atrium doors open, dwarfing construction equipment nearby.
The huge mountain of dirt that dominated the site for so long is now down to a mere bump, and construction of walkways between the various structures on the site is underway. Trees are now being planted inside the "Spaceship's" central area, and two smaller structures are being built within the circular expanse.
The multi-story parking structure is in use, most likely by the construction crews working onsite. That structure — like most of the others at the campus — is covered with solar panels. The huge recreation/health center for employees is being surrounded by trees, and it looks like it will be a wonderful place for Apple employees to work out.
There are still no estimates as to when Apple plans to begin occupying the various buildings on the campus. Over 12,000 employees will inhabit the "Spaceship" when it is ready for occupancy.