At this week's Consumer Electronics Show (CES) in Las Vegas, Cognitive Systems Corp., an advanced RF technology company, will launch Aura, a "thoughtful" security system for the home that uses patented spectrum analytics technology to detect and monitor motion, without using cameras.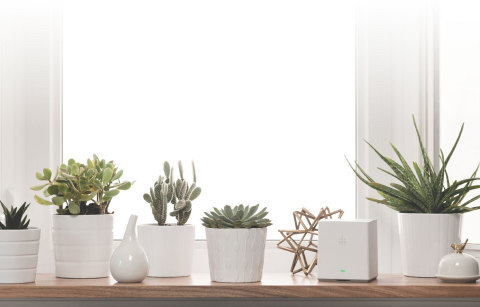 Aura is a home security system that uses technology patented by Cognitive Systems to monitor the disruption of wireless signals caused by movement in the home, without the use of cameras. Household members are notified on their smartphones of unauthorized motion that occurs anywhere in the home.
With the two-piece system, Aura provides full coverage for the average home, even in rooms where people are typically unwilling to place cameras, according to Taj Manku, co-founder of Cognitive Systems. Aura can also recognize the presence of known members, show motion patterns in the home, provide a timeline of activity, deliver tailored notifications to homeowners' smartphones, and interact with other smart home systems.
Aura is powered by a custom chipset from Cognitive Systems that monitors and analyzes wireless signal patterns that occur when movement takes place within a home, and alerts the user if unauthorized motion is detected. It will launch with IFTTT integration so that it can connect with other smart home systems as desired.
Aura is set-up and managed via a free app available at the Apple App Store and on Google Play. The app allows homeowners to see three different views of motion: Live, 12 Hour and Weekly. Consumers can also use the app to see who is currently at home, a timeline of household activity, arm or disarm the system and more.
Starting Jan. 5, Aura will be available for pre-order at aurahome.com with a manufacturer's suggested retail price of US$499. Orders are due to ship by Feb. 28.