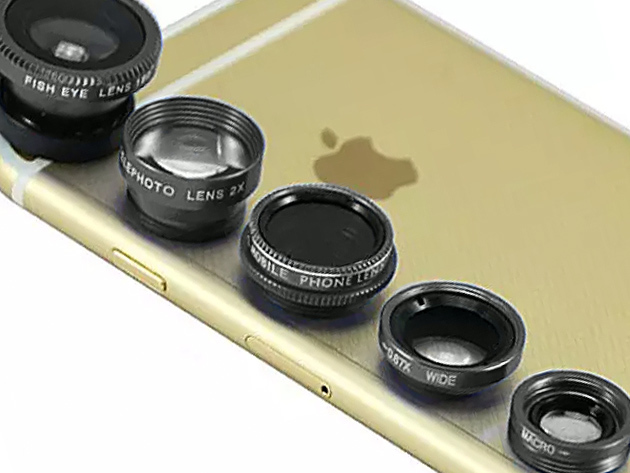 Did you know that the iPhone (in all of its various incarnations) is the world's most popular camera? We're sure that you — an Apple World Today reader — probably take a lot of photos with your iPhone. If you've thought about getting one of those lens kits for your iPhone to play around with but just found the price tags to be a bit on the ridiculous side, we've got the deal for you — a 5-pack of Clip & Snap Smartphone Camera Lenses for $23.99.
What do you get?
Fit a whole landscape in your photo w/ the wide angle lens
Take crisp, clear pictures as close as 3cm w/ the macro closeup lens
Use the fish eye lens to grab interestingly distorted shots
Zoom in twice the distance w/ the telephoto lens
Reduce & eliminate light reflection w/ the polarizing lens
Bored with the typical black or silver lens sets? You can get this 5-pack in black, blue or red! To install them, you just grab the easy clip, screw a lens into it, then clip it over the camera lens on your iPhone. When you're done, just clip it to your shirt collar or backpack for easy carrying.
For $23.99, you can afford to buy one set of the Clip & Snap Smartphone Camera Lenses for everyone in the family. Buy 'em today, because they won't last long.