On a regular basis, Apple World Today posts a list of notable new apps or app updates that have been released. They may not necessarily be new, but they're popular and deserve mention. Here are today's picks.
macOS Apps/Updates
Smile has released an update forTextExpander.com, which provides a way to share snippets across a team and which works with TextExpander 6 for Mac, TextExpander 4 for iPhone and iPad, and the new TextExpander for Windows beta.
This update features Public Groups, a way to discover and share snippet groups with the TextExpander community. Public Groups offer a way to discover ready-made snippet groups, sourced from a variety of authors, in one place. Anyone on the latest version of TextExpander can subscribe to these groups, or publish groups to share with the TextExpander community.
TextExpander keeps your snippets current on all your devices and lets you easily share and manage snippets across whole teams. Sharing options let you share the wealth of knowledge stored in your snippets. For sharing management across a team of users, you can set up a TextExpander Organization.
TextExpander is $3.33 per month for individuals on the Life Hacker plan and $7.96 per month for a Team plan. Previous TextExpander users receive a 50% loyalty discount for their first year.
Fidelity Media has released MegaSeg 6, an upgrade to the radio automation and DJ mixing system for macOS Sierra.
Featuring a new interface, the update offers 30 new features and 50 overall improvements, including Retina Display graphics, a resizable current song player, smart volume sensing for automatic segues, an improved playlist browser, full track waveforms with draggable loop in/out points, second-accurate events, and video track info overlays with your logo.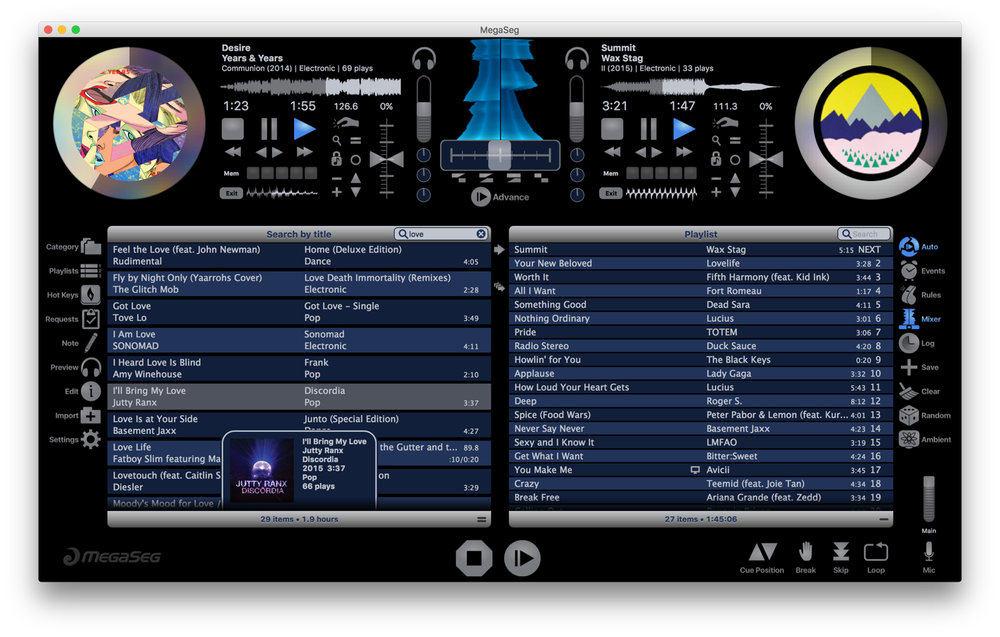 MegaSeg is available in two editions. The $99 DJ edition focuses on core live mixing features with visual beat syncing via multitouch gestures, multiple outputs for headphone preview, MIDI control, automatic volume, advanced categorization, track logging, and integrated iTunes playlists. MegaSeg Pro ($199) adds video playback with ambient visuals, hot keys for triggering sound effects, automated music scheduling, advertisement messaging events, rules for applying artist separations, request lists with reminder notes, and more advanced features for professional DJs and VJs, radio stations, and hospitality businesses such as restaurants and retail.
Older versions of MegaSeg DJ and Pro editions can be upgraded for $29 and $69, respectively. MegaSeg is compatible with any Mac running macOS 10.6 and higher.
iOS Apps/Updates
Icons8.com has released a sticker pack for iMessage with 3,900 color stickers. They're divided into 20 topics such as Christmas, Hipster, Food, School, Music and others. icons8.com regularly adds stickers that anyone can request on their website.