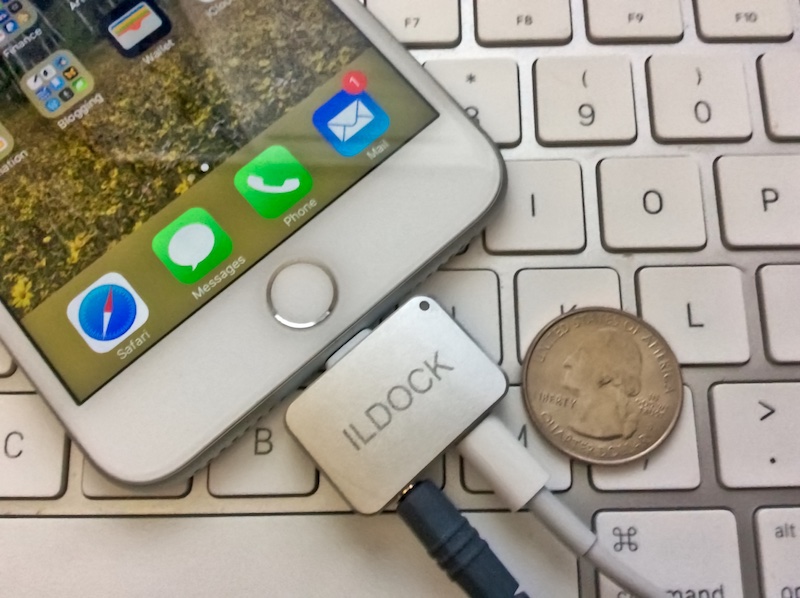 Although some of us are thrilled with our iPhone 7 purchases and are using Bluetooth headphones or the included Lightning to 3.5mm adapter to listen to music, others aren't happy with the fact that they can't charge their iPhone while using that adapter. The $10 ILDOCK is a very popular ($115,953 pledged towards a $5,000 goal) Kickstarter project for a small dock that plugs into the Lightning port of your iPhone 7 and gives you both a 3.5mm headphone jack and a Lightning port for charging at the same time. We got our hands on a pre-production version of this device for review, and we're happy to say that ILDOCK does its job very well.
Design
ILDOCK is tiny! Measuring just 28mm wide by 19mm high by 7mm thick, the ILDOCK will come in four finishes: gold, rose gold, space gray and light silver. There's very little weight to the ILDOCK – just 2.83 grams.
On top of the ILDOCK is a standard Lightning jack that plugs into the bottom of the iPhone, while the both mof the dock has a 3.5mm headphone jack and a female Lightning port. The idea is that while you're listening to music through your old 3.5mm-equipped headphones, you can still be charging the iPhone through the Lightning port.
ILDOCK has two additional docks getting ready for production as well. The ILDOCK Duo ($12) has two Lightning ports, so listening to music with the standard Apple EarPods while charging is possible. The ILDOC Plus ($20) is a jack-of-all-trades — it has a 3.5mm jack, a Lightning port, a USB port for connecting to flash drives or other USB accessories, an SD card slot and a micro-SD (otherwise known as TransFlash) card slot.
Function
The ILDOCK is simple to use; just plug it into the Lightning port on your iPhone 7 and it's ready to go — no need to add any app to your iPhone. If you have a case on your iPhone 7 that has a rather thick bottom, you might need a new case. I'm using an X-Doria Defense Shield case on my new phone and I had to remove it to be able to use the ILDOCK.
Does it work as advertised? Yep! I was able to both charge my iPhone 7 Plus and listen to music with my old V-Moda Crossfade LP headphones at the same time. Mission accomplished!
Conclusion
For just $10, ILDOCK resolves the main issue that some people have about moving to the iPhone 7. While it hasn't received the Apple Made For iPhone certification, it works well with none of the error messages that appear with some non-MFi accessories. The ILDOCK will ship beginning next month, with the Duo and Plus models expected to ship in December.
Apple World Today Rating (out of 5 stars): ★★★★★