By Aaron Lee
If you love Sandvox as a replacement for Apple's late, lamented iWeb app— and lots of you obviously do — you may also wish to check out EverWeb from RAGE Software.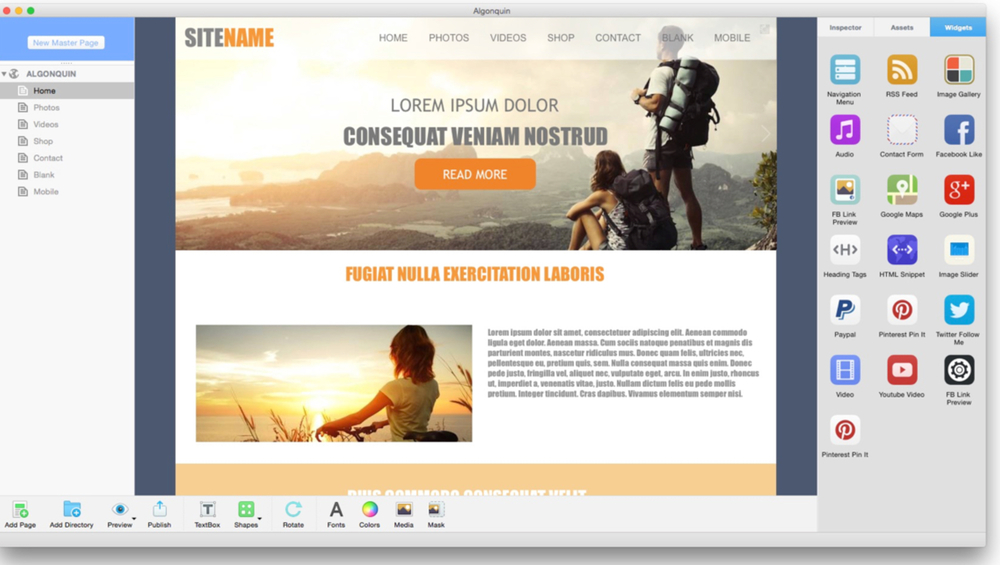 During iWeb's peak in popularity, RAGE had an app called iWeb SEO Tool, which was popular among the iWeb community. When Apple announced in 2011 that it was canceling development of their entry level website development tool, RAGE's iWeb users kept asking the company to come out with an iWeb alternative. They did; the result was EverWeb, an application that was (and is) very easy for iWeb users to switch to (and which, by the way, integrates the iWeb SEO tool into it).
Websites can be built much in the same way that you can make a graphics-rich document with Apple's Pages. No coding is involved; you use the WYSIWYG interface and and drag 'n drop actions on a variety of webpage elements. However, "power users"users can get "under the hood" to work in HTML5 and CSS3 if they wish.
EverWeb brings the familiar iWeb interface with new, modern features such as mobile websites, drop down menus, built-in search engine optimization, image slideshows and more,. Using modern HTML5 and CSS3, EverWeb websites are faster, leaner and more compatible with all major desktop and mobile web browsers than with iWeb (especially after all this time).
With EverWeb, you can use one of the professionally designed templates or start a website from scratch. Each template conveniently comes with a mobile-optimizerd version.Built-in widgets let you add design shapes, social media integration, image galleries, image slideshows, contact forms and more. The built-in HTML Snippet widget lets you add just anything to your EverWeb site.
EverWeb comes in two versions. A standalone version that can be used with any web hosting service costs $79.95. EverWeb can also be purchased with one-click publishing that includes the software, web hosting, and custom email addresses. EverWeb + One-click publishing starts at $99.95. A demo is available for download. You'll need Mac OS X 10.6.8 or later to use EverWeb.
So which is better: Sandvox or EverWeb? Hard to say. Since free demos are available for both, give 'em both a test drive to see what works best for you.
---
Cases For The Brand-new iPhone SE Are Now Available at OtterBox.com!