Wouldn't it be handy if that computer keyboard sitting on your desk also worked with your iPhone? That's the idea behind the $199.95 Tactile One Keyboard from Matias.
Mac and PC specific versions of the keyboard are available. Whichever you prefer (and we're sure you prefer the Mac version), the One Keyboard comes equipped with a USB hub, and an in-keyboard stand that's positioned for holding and controlling your iPhone. With the press of a button, the keyboard connects to your Apple smartphone. You can type a quick text or Twitter message, and then press again to instantly switch back to your Mac or PC.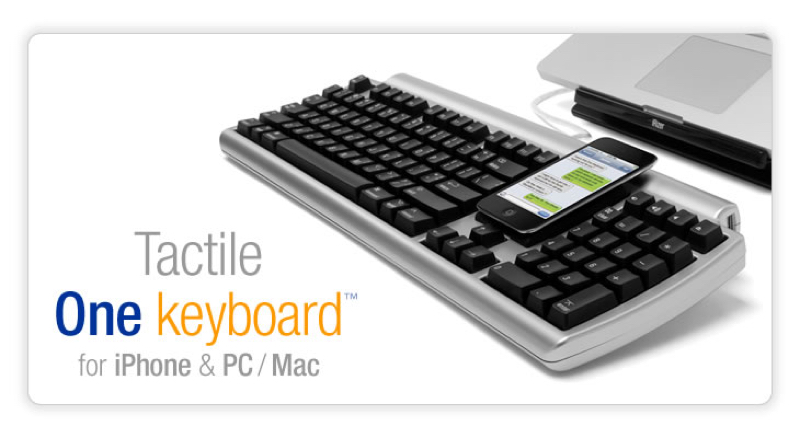 If you liked Apple's late-and-lamented-by-many Extended and Extended II keyboards, you'll love the Tactile One Keyboard. Each of its keys is built on an individual Alps Mechanical Switch. If you preferred the Extended keyboards over modern alternatives, the Tactile One keys will feel more comfortable.
Instead of the flat, wide keys prevalent on most laptops, the Matias keyboard has traditional sculpted keys, curved to fit your fingertips and keep them from sliding out of the home row.
PgUp, PgDown, Home, and End are done by holding down the fn key and pressing the arrow keys. Matias has designed the Tactile One so you can do this with one hand. Simply hold down fn with your thumb, and then press the arrow keys with your fingers.
The Tactile One has special Anti-Ghosting Circuitry (also called n-key rollover) to deal with a problem faced by some keyboards. They allow only a certain number of keys to be pressed at once — and often can't keep up with very fast typists. You can type as fast as you're able; the Tactile One will keep up.
It's also Mac friendly. For Mac users, ™ € £ ¥ © and other hard to find symbols are printed right on the keys. Simply hold down Option for the bottom-right characters, or Shift-Option for top-right characters. And they even work on the iPhone.
Finally, the function keys provide all the standard Mac media controls, including volume, screen brightness, iTunes track selection.
---
Eliminate unwanted people or things from your photos with Snapheal CK