By Aaron Lee
Questions about data sovereignty, data security and cloud computing are important issues are important for every person who has an email account — and that includes you. Technichor's Horcrux Email Backup for Mac users lets you automatically keep you data rather than surrendering it to third party services.
The data stored with some email providers actually belongs to the provider, not to the user. As a result, some folks have been surprised to discover that they've lost access to their data without any recourse.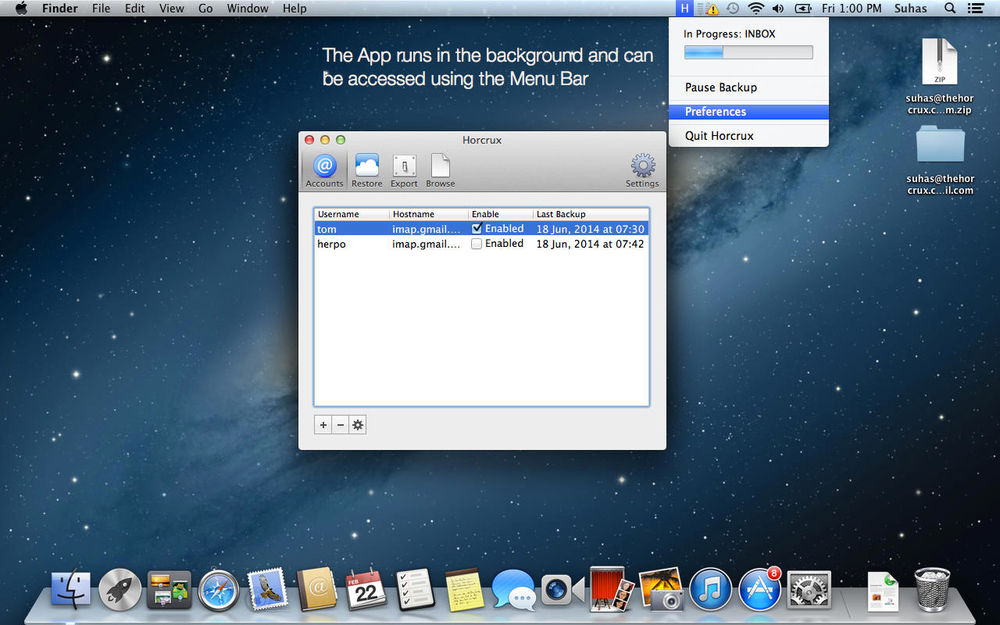 Horcrux is a background app that takes daily snapshots of email account states similar to the way Apple's Time Machine works with your Mac. The app allows you to browse the emails and undelete specific emails. In case you accidentally delete an important email, you can undelete it with a click.
Another feature of Horcrux is the option it gives people to change email providers without losing all prior data. Horcrux will migrate all the emails to another email service, retaining all tags and hierarchies.
Horcrux uses the standard IMAP protocol to access your emails. This means it works on just about all email providers such as Apple Mail, Gmail, iCloud, Outlook and Exchange. You can add a plethora of email accounts. Backups will be made in the frequency you set in Horcrux.
If you want to make sure that you've got backup copies of your emails in case your email provider doesn't do its job — or in case your email boxes get trashed — Horcrux can be a lifesaver.
Horcrux Email Backup requires Mac OS X 10.7 or higher. It costs $14.99 and is available at the Mac App Store in the Utilities category.
---
Get more when you sell your used iPhone – Orchard