A new quarterly report from Wristly says that 94% of Apple Watch owners are still satisfied with the smartwatch.
Compared to the April satisfaction survey, the latest quarterly satisfaction rating shows some slight improvements at 94% total satisfied vs 93% previously. The folks at Wristly believe that this positive uptick could be due to positive sentiments for the upcoming watchOS 3. For the new survey, 50% of the panel of 800 say they are "Very Satisfied" verses 46% last April. Meanwhile, 44% are "Satisfied" verses 47% in April.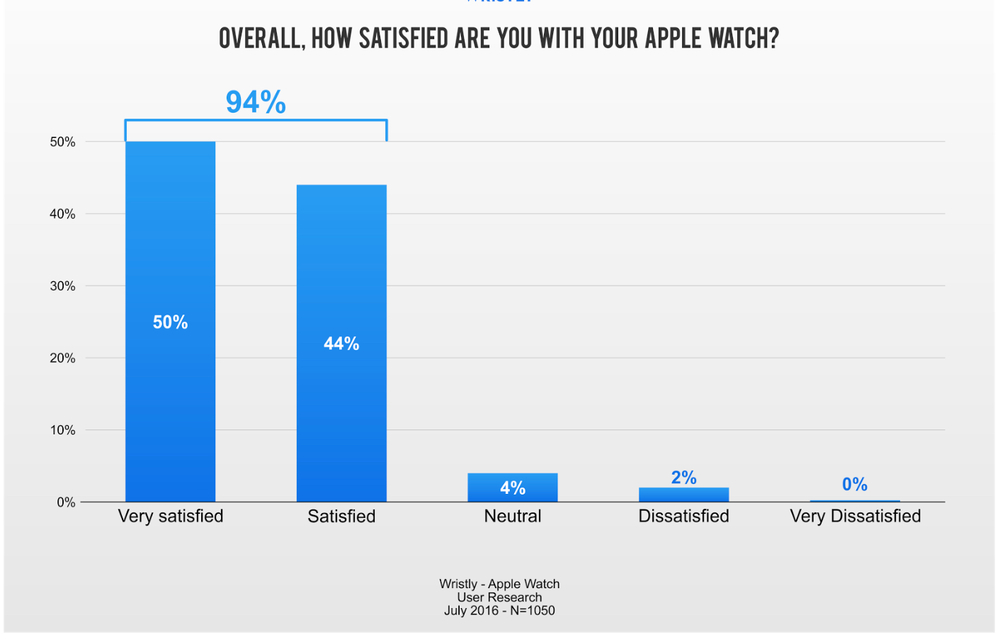 Regardless of the level of satisfaction, the vast majority of Apple Watch owners continue to wear it most of the time day after day. A large 14% stated that they even wear it at night to track their sleep or use the gentle taptic alarm. And in this study, only 1% of Wristly respondents have stopped wearing their Apple Watches.
Ironically, only 43% of those surveyed would recommend a friend or colleague buy one of Apple's smartwatch right now. However, the three biggest reasons for not recommending one are being addressed in watchOS 3: more speed and better overall performance including battery; more utility and various capabilities; and more independence from the iPhone.
---
Protect your Apple Watch from scratches with the X-Doria Revel for 42 mm Apple Watch