Most Mac users are happy to use the Time Machine backup utility built into OS X, but that utility has a shortcoming — it doesn't create a bootable copy on the backup drive. That's why third-party utilities such as Bombich Software's Carbon Copy Cloner 4 (US$39.99) have remained so popular.
I recently decided to switch back to a third-party utility rather than Time Machine, since my main goal if my primary internal iMac drive goes bad is to get back to work as quickly as possible. I had used SuperDuper! for quite a few years, but the app (and the company website) just doesn't seem to have changed over the years. Carbon Copy Cloner has been around since 2002, and although Carbon Copy Cloner 4 was first introduced about 21 months ago, it's been in continuous development with constant updates.
Carbon Copy Cloner (AKA CCC) has a 30-day free trial available for download, so if you haven't tried the app in a while it's well worth the effort to download and try the app. CCC has a nice, fresh look to it: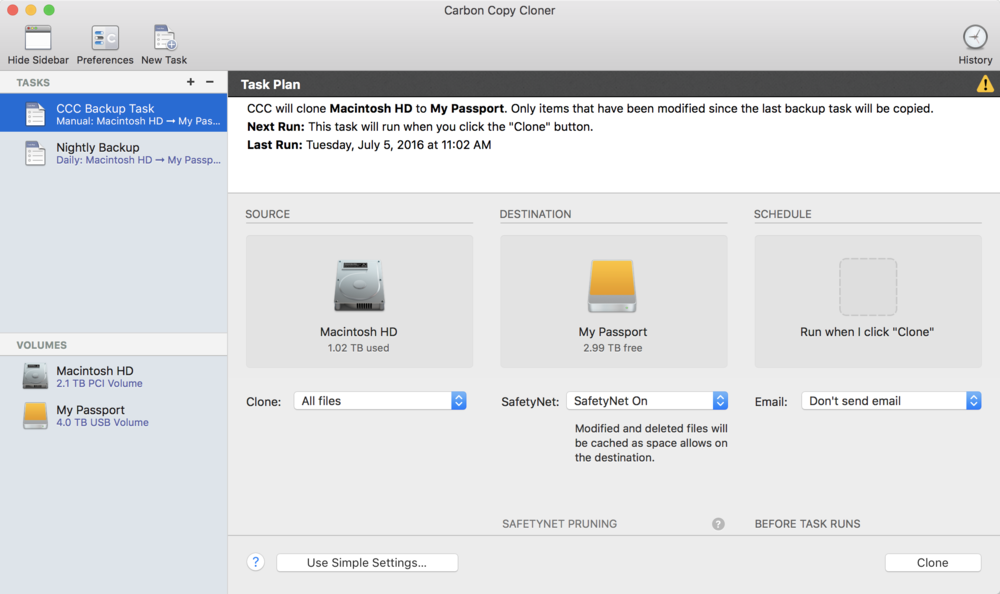 On the sidebar is a list of tasks that you've created as well as the volumes currently attached to the Mac. Here you can see that I did a manual clone of Macintosh HD to My Passport, and that I have a nightly task that backs up only changed files. There's a feature called "SafetyNet" that will cache modified and deleted files onto the destination drive; that's quite useful if the primary drive fails between nightly backup runs.
Did you notice the yellow "warning" triangle on the Task Plan header? That came up when I did my first clone, letting me know that current Macs might not be able to use a 4TB USB drive as a boot drive due to a firmware limitation. I did test this, and was able to boot off of the USB drive with a single 4TB partition. I plan to do a test boot from my backup drive each month just to make sure things are working properly.
CCC does a great job of letting you know what's happening during the cloning process, and it's possible to have the app send an automatic email upon completion with whatever details you wish to see. Some people may choose to just get a simple email with start and end times for a backup task, while others — system administrators who are backing up a critical system, for example — might want all sorts of details.
CCC also adds a menu bar icon; when clicked, it shows what task is currently running (if any) and allows you to manually start one of your pre-defined tasks with a quick selection. I like the ability to see a history of what's taken place (see below), and also how CCC lets you clone the Recovery Partition on your Mac. That's a key feature of CCC in my opinion, as if your primary drive goes south, being able to reboot from a cloned Recovery Partition gives you an opportunity to re-install OS X quickly to see if that resolves the issue.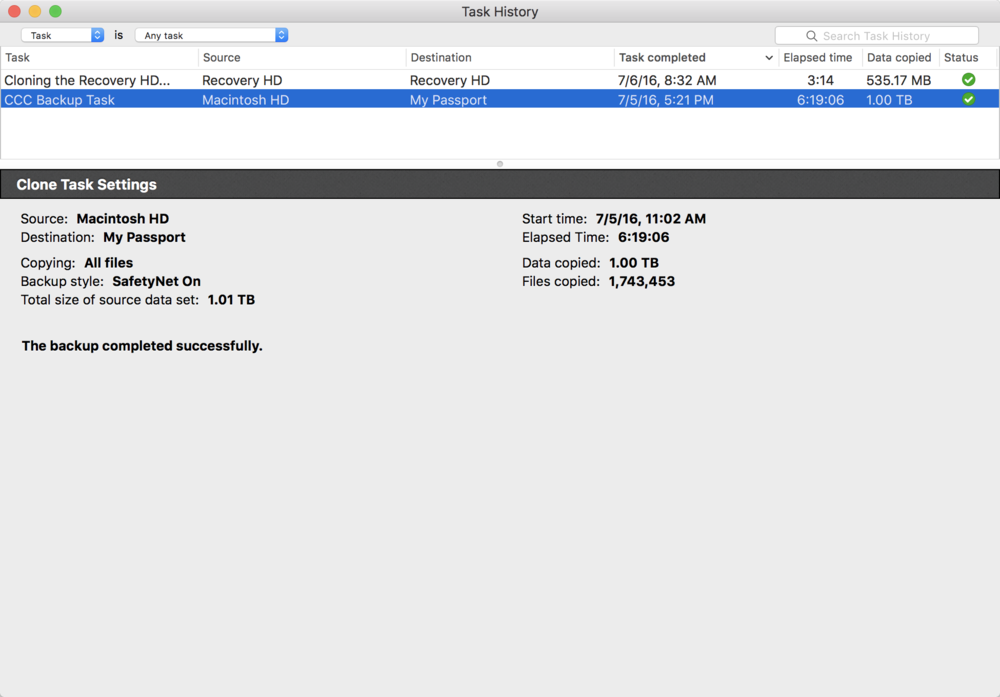 Finally, Bombich Software is already working on making the necessary changes to CCC so that it will be compatible with macOS Sierra – I like to see that kind of proactive work going on. It has been about a decade since the last time I used CCC and I'm glad I'm back. The app looks and acts like a modern OS X/macOS app, which I can't exactly say about its main competitor.
If you value your data — and you should — Carbon Copy Cloner is a powerful, yet easy-to-use utility for making bootable clone backups of your Mac.
Apple World Today Rating (out of 5 stars):
★★★★★