As announced at Monday's Apple Worldwide Developer Conference keynote, Dish Network's "skinny" TV bundle, Sling TV, is coming to the Apple TV. This will lead to two rumors: 1) Apple is abandoning plans for its own video streaming service, and 2) Apple should buy Dish.
Current Sling TV subscribers will be able to access all of Sling TV's live streaming television directly from the fourth generation Apple TV. What's more, Dish and Apple are offering a bundled deal that would let potential customers purchase a new Apple TV for $89 ($60 cheaper than the regular retail price) if they pay up front for three months of Sling TV, which costs $20 a month.
This partnership should be beneficial for both companies, according to Business Insider. Sling TV is one of the first integrations of a cable bundle and live pay-TV provider into Apple TV. BI adds that the Sling TV integration surprised those who expected that Apple would offer its own pay-TV service that would natively integrate into Apple TV. The addition of live TV platforms onto Apple TV lets the tech giant distinguish its product from other purely on-demand services, such as Netflix, and become more competitive with other set-top boxes, such as Roku.
Sling TV had approximately 600,000 subscribers as of February, according to The Wall Street Journal. The Apple partnership should increase that number.
You'll have to sign up and pay for Sling TV through Dish's website even though the service is available on Apple's set-top box. According to Business Insider, Sling TV has stayed independent in this way and avoided the 15% revenue split that Apple charges other subscription partners on Apple TV.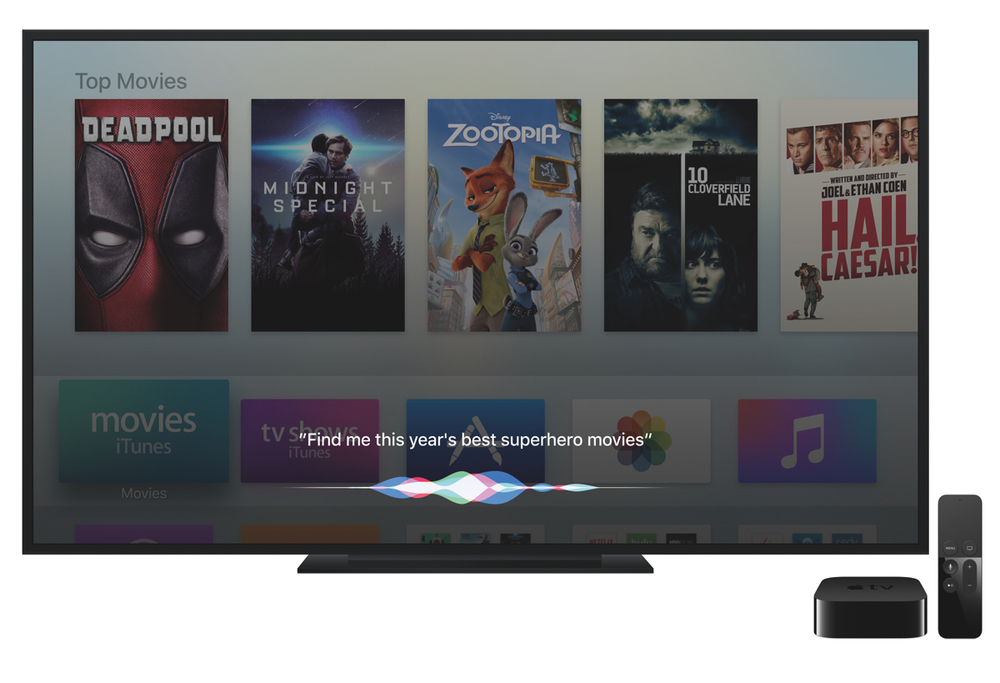 So what does this mean for Apple's rumored TV streaming service? I'm not sure. The Dish partnership does at least hint that Apple may be abandoning — or at least delaying — its plans. On the other hand, according to TheStreet, Apple is looking to product original content for its upcoming TV streaming service a la Netflix, Hulu, and Amazon Prime.
The Cupertino, California-based company began sounding out Hollywood's creative community late last year, but has yet to sign any agreements, the article says, quoting two unnamed people with knowledge of the overtures." One plan is to have deals in place so Apple can announce exclusive content as part of a cable-like offering in September, when it is expected to unveil its iPhone 7.
The Wall Street Times says that Apple has talked — to no avail, so far — with programmers to offer a slimmed-down bundle of TV networks that will be available on Apple gadgets such as the Apple TV, iPad, and iPhone. Apple purportedly wants the service to offer about 25 channels for $30 and $40 per month. Apple's Web TV offering will reportedly be anchored by broadcasters such as ABC, CBS and Fox, but won't include smaller channels typically included in a standard cable TV package.
The rumor mill says the original plan was for Apple Web TV to launch aside the fourth gen Apple TV. That didn't happen, apparently because the company couldn't hammer out deals with various TV networks and companies.
So perhaps Apple is abandoning those plans. If it's just delaying them, that's a bad idea. Everyone is jumping on the streaming TV service; IF Apple plans such a move, it should be sooner rather than later.
As a potential cord cutter, I am enticed by Sling TV. The 20 channels for $20 a month tempts me to ditch my Comcast TV service. If only the Sling TV included local channels in the mix. Sure, I could buy an HDTV antenna and get them, but inclusion in the Dish service would be so much more convenient.
Of course, Apple may be considering plans to buy Dish (although I doubt it). In January, pundit Robert X. Cringely predicted in an I, Cringely column that Apple will buy Dish Network, the American direct satellite TV broadcaster.
Here's Cringely's reasoning: "It's the only acquisition that will give Apple the kind of entry point they want into the TV business, allowing Cupertino to create overnight an over-the-top (OTT) Internet streaming video service — effectively an Internet cable system.
"Buying Dish would be a bold move for Apple because all the benefits Cupertino seeks aren't obviously available. True, Dish has 14 million U.S. subscribers (I am one of those) who get 100+ channels of TV from the sky. True, Dish has an existing OTT streaming service called Sling that already offers a subset of the company's cable channels. But it doesn't necessarily follow that Dish could simply transfer its satellite content to the Internet, at least beyond what it does already with Sling."
Sure, Apple could buy Dish Network if it wanted. The Cupertino, California-based company has a market value of over $500 billion. Dish Network has a market cap of almost $23 billion. (Market capitalization is the total market value of the shares outstanding of a publicly traded company; it is equal to the share price times the number of shares outstanding.)
---
X-Doria Defense Metal Cases: Protection and beauty