Satechi's BT Touch Speaker is a portable Bluetooth speaker that provides a surprising amount of audio volume considering its small size and price (US$79.99, though it may still be available at its introductory price of $49.99). It also allows for hands-free calling from any Bluetooth-enabled smartphone such as the iPhone, thanks to an integrated, built-in mic. 
The first time you turn on the BT Touch Speaker, it remains in "pairing mode" for two minutes, as indicated by the status indicator light blinking red and blue. To return the speaker to pairing mode at any time, press and hold the "Phone/Pairing" button until the light blinks red and blue.
To pair your iDevice with the Satechi speaker, go toSettings > General > Bluetooth. You'll see the unpaired device. Type in 0000 as the pairing code to make the connection. Once successfully paired, the indicator lights on the BT Touch turn solid blue, and you're good to go. You can can also use it with a non-Bluetooth-enabled device as it comes with a 3.5mm jack.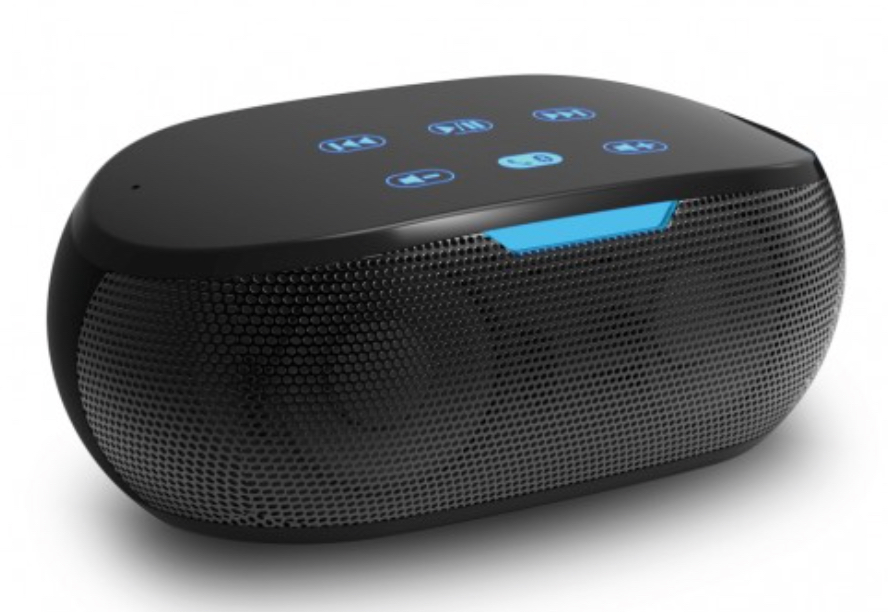 The 2.5 X 2 watt, dual-channel speaker system pumps out enough volume to fill your average-size office or room at home. However, it's not a true stereo speaker. You get monaural sound. Good monaural sound, but the bass is a bit weak and the stereo separation is just okay.
The BT Touch Speaker is a good aesthetic match for a modern office. It has a sleek, glossy design (in black) with blue LED touch buttons (which would be practically invisible without their blue "glow") that let you control audio playback, volume and answer calls. 
The BT Touch Speaker is small enough to be transported with ease. It features a rechargeable lithium ion battery so you don't have to worry about packing a power supply. Charging takes about four hours; on a full charge, the speaker will last about six hours. The built-in rechargeable lithium-ion battery is powered through the USB charging port which can be connected to a computer or a wall adapter.
If you need a small travel speaker that looks great and sounds good, the BT Touch Speaker will serve you well.
The BT Touch Speaker is available at Satechi.net or Amazon.com . 
---
Pure class: The Pad & Quill Bella Fino Leather Case for iPhone® SE