Apple and SAP, which specializes in enterprise application software, have announced a partnership to "revolutionize the mobile work experience for enterprise customers of all sizes" by combining native apps for the iPhone and iPad with the capabilities of the SAP HANA platform.
This joint effort will also deliver a new iOS software development kit (SDK) and training academy so that developers, partners and customers can build native iOS apps tailored to their business needs.
"This partnership will transform how iPhone and iPad are used in enterprise by bringing together the innovation and security of iOS with SAP's deep expertise in business software," said Apple CEO Tim Cook win a press announcement. "As the leader in enterprise software and with 76% of business transactions touching an SAP system, SAP is the ideal partner to help us truly transform how businesses around the world are run on iPhone and iPad. Through the new SDK, we're empowering SAP's more than 2.5 million developers to build powerful native apps that fully leverage SAP HANA Cloud Platform and tap into the incredible capabilities that only iOS devices can deliver."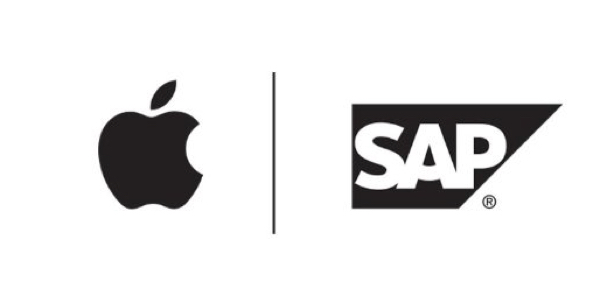 SAP HANA (high-performance analytic appliance) is an application that uses in-memory database technology that allows the processing of massive amounts of real-time data in a short time. The in-memory computing engine allows HANA to process data stored in RAM as opposed to reading it from a disk. This allows the application to provide instantaneous results from customer transactions and data analyses.
The companies plan to deliver a new SAP HANA Cloud Platform SDK exclusively for iOS that will provide businesses, designers and developers the tools to build their own iOS apps for the iPhone and iPad, based on SAP HANA Cloud Platform, SAP's open platform as a service. These native apps will provide access to core data and business processes on SAP S/4HANA, while taking full advantage of iPhone and iPad features like Touch ID, Location Services and Notifications.
A new SAP Fiori for iOS design language will take the SAP Fiori user experience to the next level by combining it with a consumer-grade iOS experience to deliver on the robust user needs in the enterprise and enable developers to build next-generation apps, according to Bill McDermott, CEO of SAP.  To help SAP's 2.5-million member global developer community take full advantage of the new SDK and Apple's innovative hardware and software, a new SAP Academy for iOS will offer tools and training. The new SDK, design language and academy will begin rolling out before the end of the year.
As a part of the partnership, SAP will develop native iOS apps for critical business operations. These apps for iPhone and iPad will be built with Swift, Apple's interactive programming language, and will offer a familiar user experience with the SAP Fiori for iOS design language. Workers across industries will be empowered to access the critical enterprise data, processes and user experience they need to make decisions and take action right from their iPhone or iPad through apps designed to enable a field maintenance worker to order parts or schedule service, or a doctor to share the latest patient data with other healthcare professionals, says McDermott.
---
An iPad without a Brydge Keyboard is like a car without wheels…