Bluelounge just announced something that I've personally needed for a long time; a AA battery recharger that I can plug into my Mac. The $19.99 Aaden is designed to charge up those rechargeable Ni-MH or NiCd AA batteries that probably power your Apple Wireless Keyboard, Mouse or Magic Trackpad, but instead of Apple's answer — plugging a recharger into a wall socket — Aaden neatly plugs into an open USB port on your Mac.
Design
Aaden looks like — but isn't — an Apple TV. The little (2.5 x 2.5 x .87 inch) black box has two slots on the bottom into which your rechargeable AA batteries are placed. Drop them into the slots, flip the Aaden over, and plug it into a USB port. When you want to check the charge level, just turn Aaden over again – twin LEDs let you know when the batteries are ready to be used in your favorite juice-hungry accessory by turning from red to green.
This solves a couple of annoyances I've had since I first purchased my Apple recharger — sometimes the batteries will pop out, I have to plug it in away from my desk, in a regular wall socket. Aaden is right there in front of me, sitting just below my iMac. When I get the warning that my Magic Trackpad is critically low on power, it's a quick matter of reaching a few inches and grabbing the batteries.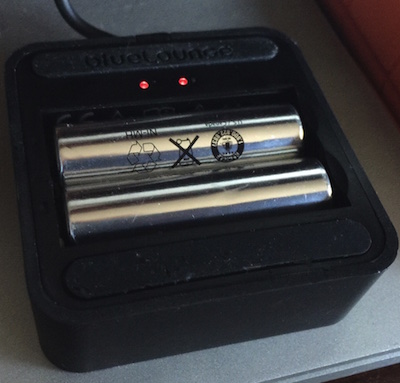 Function
It's a AA battery recharger, nothing more. But compared to Apple's dated recharger, this is a breath of fresh air. It worked perfectly with my old Apple rechargeables, and works with any rechargeable AA batteries.
My only complaint is that the USB cable is only about 6.5 inches long, which limits the areas where the device can be located. You'll have to supply your own rechargeable batteries, of course, but they're readily available at millions of retailers.
One interesting detail: I pulled what I assumed was a "fully charged" pair of rechargeable batteries from my Apple recharger and put them into the Aaden. It charged them up for a few hours, which tells me that the Apple recharger wasn't doing its job properly.
Conclusion
If you recharge AA batteries to power your desktop peripherals — and you should be — then the Bluelounge Aaden is a no-brainer. You'll always have a fresh set of batteries at your fingertips, and the Aaden is unobtrusive, too. At twenty bucks it's not a deal-breaker. I did some searching for similar products, and there are very few competing chargers. The few I did find were in the same price range.
Apple World Today Rating (out of 5 stars): ★★★★