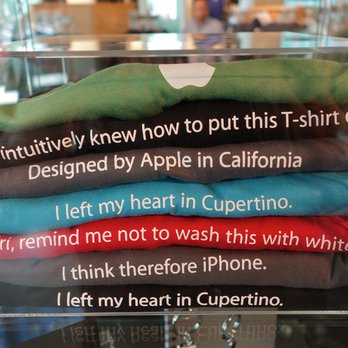 For anyone who loves the Apple brand, there's literally no place on Earth like the Apple Company Store at 1 Infinite Loop in Cupertino, CA. It's an Apple Store, but unlike any Apple Store you've ever seen.
During trips to the Bay Area for business or personal travel, it's possible to pop into the Apple Company Store and pick up things you won't find elsewhere — company logo clothing and merchandise of every possible type. Whether it's an Apple logo onesie for your favorite grandkid, an Apple water bottle for exercising or Apple hats for your softball team, the Store has it all. However, you usually can't buy the usual Apple products in those stores…
Sadly for visitors, the store has been closed since June, undergoing renovations of some sort. But this Saturday it's opening again, although nobody (except Apple) is sure exactly what changed in the store.
It could be that the company wants to make it look more like an Apple Store, perhaps even to the point of carrying the company's products. There's certainly no shortage of exciting products that they could carry in the facility.
If you happen to live in the Bay Area and can drop by the store on Saturday, we'd love to know how it's changed.