My iPad Air 2 lives in a keyboard case, but I don't find it at all comfortable to use it as a laptop device. Instead, I usually find myself either squirming into an uncomfortable position in a recliner to try to type and tap, or I give up and go sit at a table. That hasn't been the case since I had a chance to try out iSkelter's Tab (US$59.99), a handmade wooden lap desk that has changed the way I work with my iPad.
Design
The Tab is a sturdy lap desk made of natural finish bamboo. With dimensions of 15 x 11 x 0.75 inches, it's thick enough that you can really get a good grip on it while carrying. That thickness adds some bulk to it — it weighs 2.5 pounds — but as you'll read later in this review, that's not necessarily a bad thing.
You can order the Tab in three different configurations; Desk Space (just bare wood), Right WhiteBoard (has a 7 x 8.5 inch whiteboard built into the right side of the top surface) or Left WhiteBoard (the same, but for lefties). The slot in the top for holding your iPad or iPhone upright is just under a foot wide, meaning that the iPad Pro probably won't be able to fit unless iSkelter extends the slot another quarter inch on each end. Of course, the iPad Pro was just a dream when the Tab was created…
I like the looks of the Tab, and it's very well made. It's not the type of thing that I'd want to carry with me on an airplane, but for use around the house, it's very acceptable.
Function
Unfamiliar with the concept of a lap desk? My first experience was as a college freshman, taking my first physics exam in a horrible old auditorium that of course didn't have desk-type seats. Instead, as you walked into the place to take an exam, you grabbed a thin board from a box and used that in your lap as a desk. Yes, it was as bad as it sounds, as you were crouched over your little "desk" in an uncomfortable position. With that nightmare in my head, I didn't have high hopes for the Tab, but fortunately things have changed.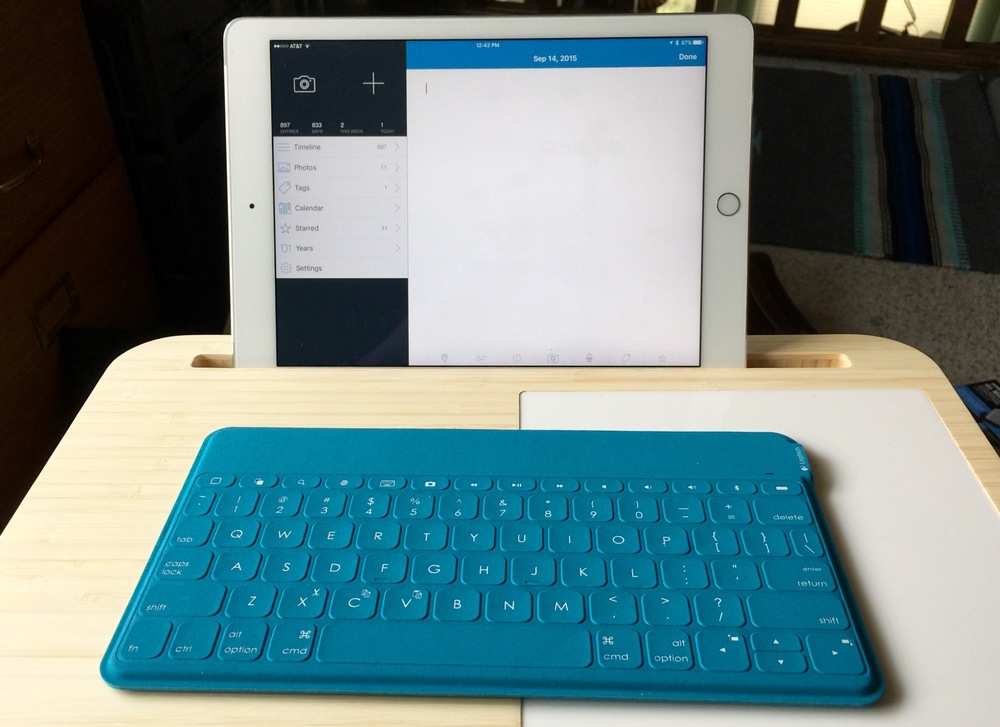 It worked quite well when I was sitting in my comfy recliner, with the iPad Air just sitting in the slot of the Tab. I think this would be a very good way to watch videos on the iPad, with the Tab acting as a stand that can sit in your lap. Next, I grabbed a Logitech Keys-To-Go keyboard that I use with the iPad Air on occasion, and tried using that on the Tab. I found it to be very workable, as the solidity of the Tab made it very easy to type quickly on the Keys-To-Go and the angle of the screen was almost perfect.
One smart feature — there's a hole in the bottom of the slot that's big enough for a 30-pin Dock Connector to go through, so if you need to charge any iPad or iPhone while using it on the Tab, you can snake the cable up and through the hole.
I think the idea of the whiteboard is unique, if not a little little misguided. You can use any dry-erase market to write on it over and over again, but I found that if I was trying to do certain things with the iPad in the Tab slot, I dragged my hand over the whiteboard and ended up with red marker ink on my hand. Still, it's a good place to write notes like "I'll be right back" or "Take this Tab and I will hunt you down!".
Conclusion
I went into this review with no good expectations, and came out with a way to work with an iPad in my lap in a much more ergonomic way. The thickness of the Tab brings the iPad and keyboard (if used) up just enough to make it much more comfortable to use than a thin, flat board. Although the slot isn't wide enough for an iPad Pro, it could work just fine if paired with the Smart Keyboard and used on top of the Tab.
Apple World Today Rating (out of 5 stars): ★★★★
Like the Tab? If you buy one, be sure to use the Amazon links below to support Apple World Today:
Tab Desk Space (no whiteboard)
Tab Right WhiteBoard (whiteboard on right side)
Tab Left WhiteBoard (whiteboard on left side)