Sonnet's Fusion PCIe Flash Drive is a tough, pocket-size solid-state drive (SSD) storage device targeted as an "ultra-fast alternative" to portable SATA-based hard disk drives and SSD storage products. That's true; however, it comes at a steep price: US$499 for a 256GB version and $799 for a 512GB model.
If you can afford it, there's a lot to love. First, it's convenient. The Fusion PCIe Flash Drive connects to a compatible Mac (or, Windows machine, if you must) or at the end of a Thunderbolt device daisy chain by an attached 0.5-meter Thunderbolt cable.
Second, it's extremely fast. Sonnet says the Fusion PCIe Flash Drive's performance is comparable to a multi-drive RAID storage system. I'd say their right. With it, I backed up 997MB of documents and 88GB of photos in less than 45 seconds.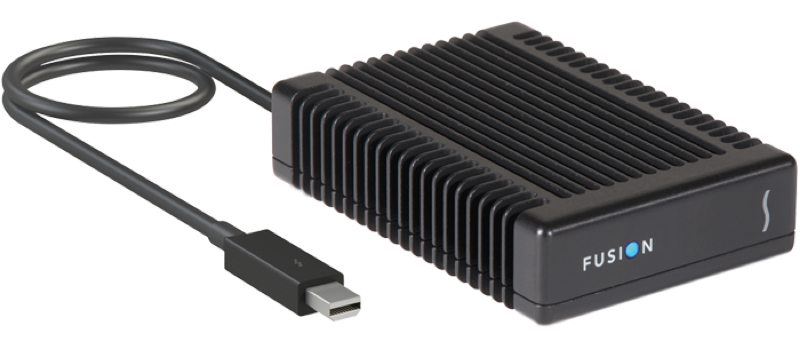 It's portable. Measuring 2.8 inches x 4.1 inches x 1 inch, the Fusion PCIe Flash Drive fits in the palm of your hand so is easy to stash in a bag or purse.
The speed is due to the fact that the Fusion PCIe Flash Drive is based on the latest Gen 3 PCIe SSD module, the fastest standard SSD type now available. It also sports a 20Gbps Thunderbolt 2 interface with enough bandwidth to sustain file transfer speeds that are fast enough to handle 4K workflows.
It's rugged and efficient. The Fusion PCIe Flash Drive's enclosure is made out of aluminum, which is quite durable. It also cools the SSD and eliminates the need for a fan. What's more, the Fusion PCIe Flash Drive is bus-powered so requires no power adapter.
That said, its price tag means it's not for everyone. As Sonnet notes, it's best suited as a shuttle drive or a take-anywhere drive for editing 4K video at offsite shoots.
Also, OS X (10.8.5 and higher) users can install an operating system on the Sonnet device to create a fast boot drive. Both OS X and Windows users can use the Fusion PCIe Flash Drive for instant-access media storage or as a high-performance scratch disk.
If those sound like any of your needs, save your cash and spring for the Fusion PCIe Flash Drive. Less demanding users can find back-up options that won't put as much strain on their credit card.