It's heeeeeere: iOS 9, that is. (Though the minute I tried to download it I got this message: "An error occurred downloading iOS 9." Are the Apple servers already overloaded?
Assuming they aren't, iOS 9 can be downloaded free via iTunes or as an over-the-air update through the Software Update function in iOS's Settings app. To install it, you'll need to be using (at least) an iPhone 4s, iPad 2, or fifth-generation iPod touch. Following are some of the highlights of the operating system upgrade:
New multitasking features for the iPad Air 2 and the upcoming iPad Pro allow you to work with two apps simultaneously, side-by-side or with the new Picture-in-Picture feature, to keep watching a video while browsing the web, composing email or using any other app. In other words, in iOS 9, switching between apps has been redesigned.
Slide Over lets you open a second app without leaving the one you're in. Split View allows two apps to be open and active at the same time on the same screen. Picture-in-Picture scales a video down in size so you can keep watching a TV show while you reply to an email. Developer APIs [application programming interfaces] will be available for Picture-in-Picture, Slide Over, and Split View.
Another new feature of iOS 9 designed with the iPad Pro in mind is a QuickType keyboard with new features to make typing and editing faster and easier. The new Shortcut Bar — which works with the iPhone as well as the iPad — makes writing on iPhone and iPad even simpler. And it's fully customizable for third-party apps.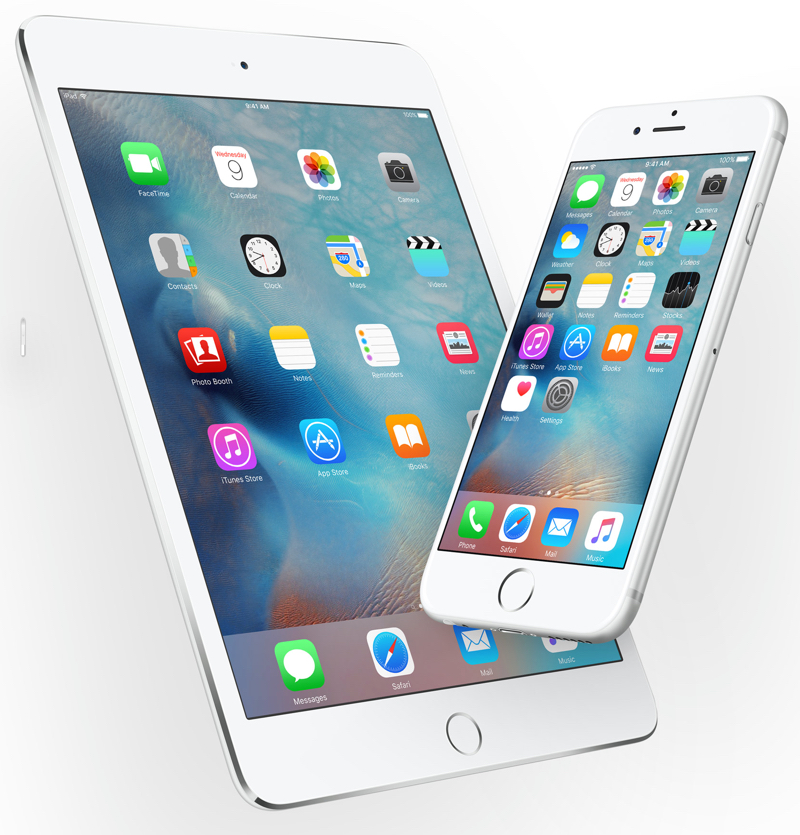 A new Transit view in Maps includes directions for public transportation like buses, trains, subways, and ferries. Maps can even survey the entrances and exits of a station so you can find the quickest way in and out. Transit in Maps will launch with support for many of the world's most traveled cities (Baltimore, Berlin, Chicago, London, Mexico City, New York, Philadelphia, San Francisco, Toronto, Washington DC).
The app will also support Transit in 300 cities across China. Maps lets you find nearby restaurants, bars, shops, and activities. It will also allow you to see which locations accept Apple Pay.
The Notes app has always been great for jotting things down, but with iOS 9, it's been completely redesigned to do more. You can add content from Safari, Maps, and other apps directly to your notes. Other new features of the redesigned Notes app include the ability to draw a quick sketch using your finger, create checklists to keep track of your to-dos, or snap a photo directly in a note.
The revved Notes will be available on Mac, iPad, and iPhone and share info. Thanks to iCloud, you can, for example, make a grocery list on your Mac, then check items off on your iPhone as you shop.
Siri — which, according to Apple, now serves over one billion requests per week — features an all-new design in iOS 9, contextual reminders and new ways to search photos and videos. Federighi says the personal assistant has seen a 40% reduction in word error rate in the past year and is now 40% faster at responding. In iOS 9, there are even more topics you can ask Siri about. You can find specific photos and videos, or set a reminder to finish an article you're reading on the web.
Proactive assistance iOS 9 presents the most relevant information without compromising users' privacy and suggests actions at a particular moment — even before you start typing — automatically suggesting apps to launch or people to contact based on usage patterns, and notifying you when you need to leave for appointments, taking into account traffic conditions, Federighi says. The Google Now rival leverages Siri and a user's data to push time/location-sensitive content, and make content/app suggestions.
iOS 9 can learn what you typically listen to in a certain location or at a particular time of day, so when you plug in headphones at the gym or hop in the car before work, it can automatically display playback controls for your preferred app. Typed search queries deliver more relevant results from more categories, including sports scores and schedules, videos and simple math calculations.
Meanwhile, an API [application programming interface] is being provided for Spotlight (integrated with Proactive) to allow content within apps to be surfaced. Google has long supported this concept, known as deep linking.
With iOS 9, Apple Pay adds support for Discover, rewards programs from merchants such as Walgreens and Kohl's Department Stores, and participating store-issued credit and debit cards. Shoppers will be able to manage their cards in the new Wallet app. Apple Pay will also be available to users in the UK starting next month.
iOS 9 makes the foundation of iOS even stronger with refinements including battery optimization that provides a typical user with an additional hour of battery life, and a low-power mode to help further extend battery life. Software updates require less space to install and an Install Later feature can perform updates to your device when it's not in use.
Enhanced security features in iOS 9 keep your devices and Apple ID secure by strengthening the passcode that protects your devices and improving two-factor authentication by building it directly into iOS, making it harder for others to gain unauthorized access to your Apple ID, according to Craig Federighi, Apple's senior vice president of Software Engineering.
iOS 9 APIs and tools for developers include:
° Extensible search that deep links directly to content within third-party apps;
° GameplayKit and Model I/O for building better games and ReplayKit for recording gameplay;
° New HomeKit profiles for motorized windows and shades, motion sensors;
° Wireless CarPlay and support for auto manufacturers to develop apps within CarPlay;
° New HealthKit data points for reproductive health, UV exposure, water intake and sedentary state.
iOS 9 will come preloaded on the iPhone 6s and 6s Plus, launching on Sept. 25, and the iPad Pro, coming in November.