The new Apple TV announced yesterday has lots of intriguing improvements, but it lacks 4K or Ultra HD support. I think that's a mistake.
I asked Apple why there was no such support. I haven't heard back yet. If/when I do, AppleWorld.Today will provide the answer.
Ultra HD is on track to become an established feature of TVs by 2020, according to Strategy Analytics' latest predictions. Falling prices, increased retailer support and strong customer satisfaction are the main reasons for Ultra HD TV's success.
Strategy Analytics now predicts that global sales of Ultra HD TVs this year may exceed 30 million units, and by 2020 61% of annual TV sales will be Ultra HD. The analyst firm also predicts that more than 20% of households in leading markets will be using Ultra HD services from pay TV or online video providers by 2020.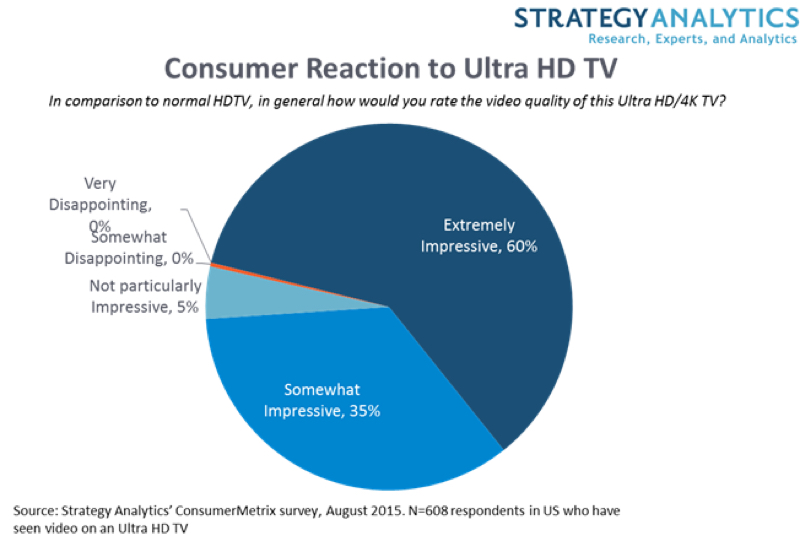 Familiarity with Ultra HD continues to rise. In Strategy Analytics' August 2015 survey of 2000 US consumers, nearly two thirds of people have heard of Ultra HD, and 30% now claim to have seen Ultra HD TV in a home, retail store or other location. Ratings of Ultra HD video quality remain extremely high, with 95% of people saying they were extremely or somewhat impressed.
"Ultra HD is rapidly becoming a de facto standard in the large screen TV market," says David Watkins, director, Connected Home Devices, Strategy Analytics. "As prices fall, tier one vendors like Samsung, LG and Sony are now looking to entice customers with enhanced UHD TVs which add wider colour gamut and high dynamic range capabilities."
"Early consumer reaction makes it clear that Ultra HD is here to stay," adds David Mercer, principal analyst. "Service providers in pay TV and online video are now responding to this demand by launching new Ultra HD services and we expect this to be a major trend in the TV industry in the next few years."
Of course, not everyone agrees that the lack of 4K support in the new Apple TV is an issue. 4K is great, but it's still in its infancy. And there simply isn't much to watch in 4K yet. While Netflix and Amazon both added 4K streaming to their video services last year, their 4K offerings remain limited.
Still, Apple likes to "future-proof" its products. Adding 4K support would have helped future-proof the 2015 Apple TV.
As for said TV, yes, I plan to get one. Despite the lack of 4K support, it sounds like a great upgrade. Its remote features Siri, so you can search with your voice for TV shows and movies across multiple content providers simultaneously. That's pretty cool.
The new Siri Remote lets you use a glass touch surface that handles both small, accurate movements as well as big, sweeping ones, according to Apple. Developers can take advantage of the built-in accelerometer and gyroscope, and the touch surface on the Siri Remote to create games and other app experiences that have never been seen on TV before.
With Siri, you can use your voice to search TV shows and movies by title, genre, cast, crew, rating or popularity by speaking things such as "Find the best funny movies from the '80s," "Find movies with Jason Bateman" and "Find popular TV shows for kids." Apple TV will search iTunes and popular apps from Netflix, Hulu, HBO and Showtime, displaying all the ways the resulting TV shows and movies can be played. Siri also offers playback control and on-screen navigation, as well as quick access to sports, stock and weather information.
tvOS is the new operating system for Apple TV, and the tvOS SDK [software development kit] provides tools and APIs [application programming interfaces] for developers to apps for the living room the same way they created a global app phenomenon for iPhone and iPad.
The new Apple TV features the Apple-designed A8 chip for even better performance. tvOS supports key iOS technologies including Metal, for detailed graphics, complex visual effects and Game Center, to play and share games with friends.
The new Apple TV will be available at the end of October starting at US$149for a 32GB model and $199for a 64GB model from Apple.com, Apple's retail stores and select Apple Authorized Resellers. A new Xcode beta is available for developers that includes the tvOS SDK. Developers can request an Apple TV developer kit by going here.