A big event tomorrow, and a lot of news today. Be sure to give a big thank you to this month's sponsor, MacPaw.
We have the URL for tomorrow's event livestream, and tell you how you can be part of a livestream and chat room with the Apple World Today team
A Periscope app for Apple TV is in the works from Twitter
The first reviews of the Aaron Sorkin-scripted movie Steve Jobs are in, and they're positively glowing
A Texas newspaper featured photos and more about the big Apple US Operations center in Austin, Texas
There's text below and video here if you'd like to take a look.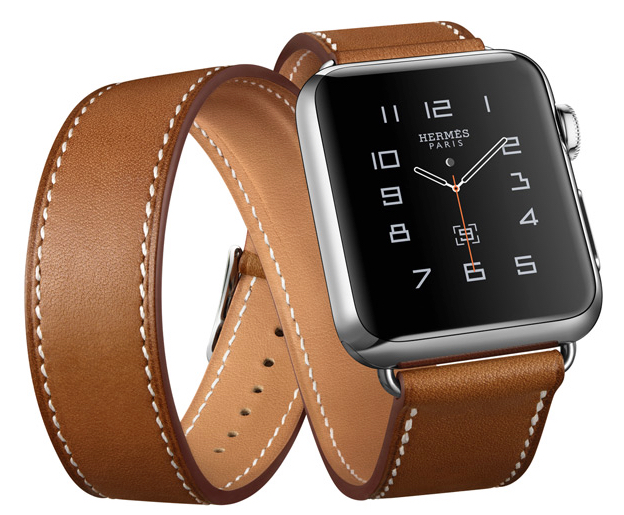 Today's AWT News Update covers all of the announcements made at today's "Hey, Siri" event, including:
watchOS 2 ship date and availability of new Apple Watch styles and bands
Introduction of the iPad Pro, Smart Keyboard, and Apple Pencil
Apple TV Introduction, with tvOS and apps
iPhone 6s and 6s Plus announcement, with 3D Touch, 12 MP iSight camera, and much more
This is an unscripted AWT News Update, so no text edition is available today. However, you can watch the video of the podcast here. Boo-yah!

Apple mentioned the huge satisfaction rating for the Apple Watch, with a whopping 97% positive rating. There are already over 10,000 apps, but even more coming when watchOS 2 arrives on September 16 (next Wednesday). What are some of those apps? How about Facebook Messenger, iTranslate, and a new GoPro app — all native!
The company has partnered with luxury goods manufacturer Hermes on some new leather bands that will be available along with Hermes branding in select stores in October. The Watch also gains new gold and rose gold versions in aluminum (the Sport), and there's now a Product(RED) watch!
For more information: Apple's Press Release
iPad Pro
We all expected it, and it was impressive. Phil Schiller demonstrated the full-size software keyboard on the 12.9-inch diagonal screen device, which uses an A9X system-on-a-chip with twice the memory bandwidth of the A8X and a built-in M9 motion coprocessor. The screen? 2732 x 2048 pixels at 264 pixels per inch.
But the add-ons were quite impressive; a "real" keyboard cover called the Smart Keyboard ($169) that looks like something Logitech would have designed, and it doesn't use Bluetooth — instead, there's a new Smart Connector that works to pass data and power. Microsoft's Kirk Koenigsbauer showed off Office on the iPad Pro, with two full-size screens (iPad screens, that is) running side by side.
There's also an Apple Pencil. Yes, it's a stylus that sells for $99 and features pressure sensitivity and can also tell if the tip is being held at an oblique angle or not. Depending on the angle and pressure, the "ink" is wide or thin. Should be interesting to see how this works with many of the apps that are already out there like ProCreate.
Sound is going to be awesome on this device, as it has 4 separate speakers that auto-adjust depending on how the device is being held.
Pricing? $799 for 32GB Wi-Fi, $949 for 128GB Wi-Fi, and $1079 for 128GB Cellular + Wi-Fi. The new device will be available in November.
For more information: Apple's Press Release
Apple TV
Another thing we all expected, but it looks much cooler than we thought. Tim Cook made the comment that "The future of TV is apps" before handing the demo over to Eddy Cue. The company announced yet another operating system — tvOS. That makes four operating systems that the company is supporting; OS X, iOS, watchOS and tvOS.
The Apple TV includes a 64-bit A8 and will come with either 32GB ($149) or 64GB ($199) of storage. There's a new touch-sensitive remote that is pretty impressive, as it also includes Siri. And boy, can Siri help you! They demoed a search in which someone asked to see "the Modern Family episode with Edward Norton". It found it immediately, and then by swiping right or left the user was able to scrub through the video to find the exact scene.
One feature is going to be just great: "What did she/he say?" Ask that question, and Siri backs up the video and subtitles it so that you can get an idea of what was mumbled by one of the characters on a show or in a movie.
Games on the device are going to be amazing. We'll see it in late October.
For more information: Apple's Press Release
iPhone 6s and iPhone 6s Plus
The iPhone 6 and 6 Plus have been wildly successful for Apple. Worldwide, the phones showed 35% year-over-year growth compared with 10% growth for the rest of the smartphone industry. The new iPhone 6s and 6s Plus will continue that trend, bringing new features and new technology to an already popular line.
There's a new rose gold option in addition to gold, silver and space gray. Apple is avoiding Bendgate 2 by using a custom 7000-series aluminum alloy and the strongest glass they've ever produced. Inside the phone is an A9 chip that features, like the iPad Pro, and M9 motion coprocessor embedded on it.
Touch ID has jumped to the second generation, with twice the speed in identifying fingerprints. But the biggest change is something new called 3D Touch. It's similar to Force Touch on the Apple Watch, but adds several "layers" of touch and tap hardness to the gesture vocabulary of the iPhone. The demonstrations of how 3D Touch works with most built-in apps to provide context-sensitive menus with a tap were pretty incredible and made the new iPhone look like a "must-buy".
But the feature that really sealed the deal for me? The new camera. The iSight (rear) camera now features 12 megapixels of resolution — that's 50% more pixels than before. The new sensor provides faster autofocus, better color rendition, and better sharpness. For the first time, the camera can shoot native 4K video.
I was most impressed with a simple function that can be added to any photo that you take — Live Photos. With a 3D Touch gesture, the camera takes a 3-second video snap to go along with the picture — 1.5 seconds before the picture is taken and 1.5 seconds after. Those images can be used as lock screens that move with a 3D Touch press, and are visible in all of Apple's photo products as well as on the Apple Watch.
As announced in June, iOS 9 and the new iPhones will come with a "Move from Android" app that has a "Move to iOS" companion app available for Android. Wireless LTE is much faster than before and more channels are available for even better compatibility across the world.
The biggest news for me was not the power of the phone, but the new iPhone Upgrade Program. When buying from Apple, you can select a carrier, get an unlocked phone that you can replace annually, and have AppleCare+ protection — all starting at just $32 per month. That, of course, does not include the cost of your data plan.
The new iPhone 6s and 6s Plus will be available for pre-order this Saturday (September 12) and available for purchase on September 25. iOS 9 will be available September 16, by the way. Check Apple's site for pricing, as there are many options that depend on your eligibility, your carrier, and the the model you select.
For more information: Apple's Press Release
Other Stuff!
We're not sure if anyone else caught it, but during Eddy Cue's demo of some of the 3D Touch features, he showed off an email that said that OS X El Capitan will be released on September 30…
Oh, and those Live Photos and 4K video you shoot are going to find a nice home on iCloud. Apple has reduced the price of storage to the point that 1 TB of space is now $10 per month. As of press time, Apple hasn't updated the iCloud pricing page.
We'll have breakout articles about each of the announcements soon.