QardioArm (US$99, affilate link) is a portable and colorful wireless blood pressure monitor that works with a free iOS app (and a new Apple Watch app!) to take and track your blood pressure. The company that created the device — Qardio — took anonymized data from thousands of users for the month of November and decided to find out just how stressful the Thanksgiving holiday was.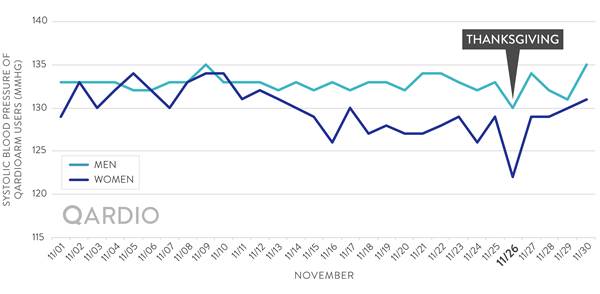 As you can see in the image above, the results were quite surprising: rather than what you'd expect with annoying relatives spouting bad politics at the dinner table and worries about Black Friday sales, the average blood pressure of 132/80 for the month of November came down to 128/72 on Thanksgiving Day.
It's kind of fun to see what happens when a lot of people end up using connected health devices like the QardioArm and agree to share anonymous data. The company also found out that those of us in the South and West were quite relaxed, while those uptight midwesterners and northeastern folks were … uptight.