For many years, if you wanted the latest scoop on Apple Store openings, updates, and designs, you went to one website: ifoAppleStore.com. The site was created by Gary Allen, who went to over 140 Apple Store openings around the globe during the run of the site. Earlier this year, Allen closed the site, stating that other sites were doing a good job of reporting Apple Store news. It turns out that Allen was suffering from brain cancer, and the Washington Post reports that he passed away on Sunday at age 67.
Not only did Allen travel the world in search of Apple Store openings, but he became the go-to guy for information on the most minute details of Apple Store design, often taking photos of the type of flooring used at different locations. He also visited the factory in Utah where the ubiquitous wooden tables found in Apple Stores are produced, and met thousands of Apple fans at the many openings he attended.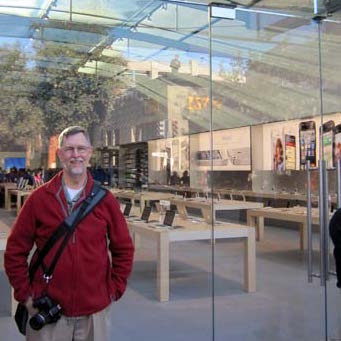 The website is now down, but fortunately the site was saved over a thousand times on the Internet Archive Wayback Machine for future generations. Allen leaves behind brothers Jim and Bob Allen, his wife Nancy, and son Devin.
Oh, and by the way… ifoAppleStore? It meant "In front of Apple Store", which is where Gary Allen could usually be found.