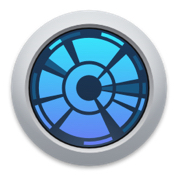 The Apple World Today team has always been full of fans of DaisyDisk (US$9.99, free trial available), a Mac OS X utility that does one thing very, very well. DaisyDisk scans all disks attached to your Mac, displaying large files in a gorgeous "daisy-like" fashion and then letting you pick and choose which ones to delete to make more room. Today, DaisyDisk 4 hit the App Store, and we were able to take a look at the new version.
The first thing that strikes you is the new look, which just fits in much better with OS X Yosemite (and OS X El Capitan beta!) than the previous version. Once you've identified the disk you wish to scan, the app zips right through the process. The old version would take a couple of minutes to scan the 1 TB Fusion Drive in my iMac, DaisyDisk 4 did it in about 30 seconds. The company claims speed improvements up to 20x faster, and I can believe it.

As before, DaisyDisk is a small (6 MB) app, and the developers at Software Ambience have also reduced the memory consumption of the app while it's at work. The UI of the app remains as simple as before; clicking on the "petals" shows the files or folders that are taking up the most space on your Mac, and you can click to find individual files that may be especially space-hungry. Click the center of the daisy to move back up one level to get an overview, or drop the individual files or folders onto a target to delete them forever.
The base configuration logic board is back to not including an empty SSD slot—only bare solder pads. If you want a Fusion drive, you'll have to configure it when you buy your iMac—or be handy with a soldering iron.
While the 4K Retina is an impressive display of Apple's prowess, the rest of the hardware is a fixer's nightmare. This guy earned itself a 1/10 on the iFixIt repairability scale.