Apple has given us a watch. Will it give us an Apple Ring? The company has filed an application with the U.S. Patent & Trademark Office for "devices and methods for a ring computing device."
Per the patent, a user controls an external electronic device with a finger-ring-mounted touchscreen that includes a computer processor, wireless transceiver, and rechargeable power source. The ring would have a variety of the features of the Apple Watch.
In the patent filing, Apple notes that the use of touch-sensitive surfaces as input devices for computers and other electronic computing devices has increased significantly in recent years. Many take advantage of touch-sensitive surfaces such as touchpads and touch-screen displays.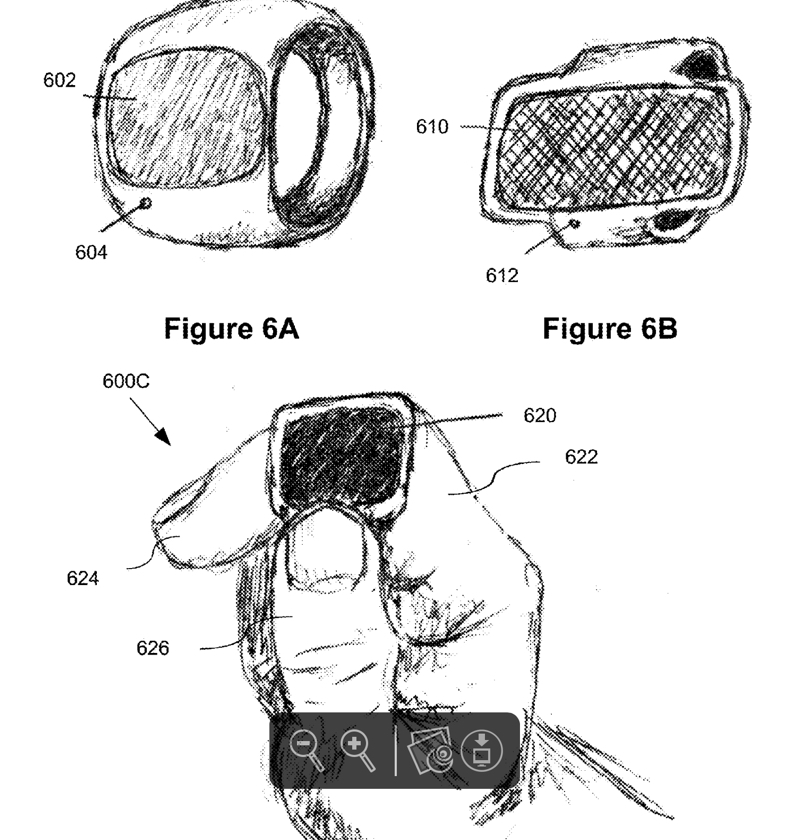 However, Apple says that the use of existing touchpads and touch-screen displays, may be "cumbersome, inconvenient, or inefficient for certain tasks and applications." A user's hands may be preoccupied with another task, for example, or the user's hands and/or arms may become fatigued after holding the device in a viewing position for extended periods of time.
Also, the light emitted by a touchscreen may be inappropriate in certain social environments or even dangerous if it gives away the position of a threatened user, says Apple. What's more, switching back-and-forth between different input modes, such as a keyboard and mouse, may be inefficient. Apple says there's a need for a "more discreet, safer, more efficient, or more ergonomic way to interact with touch pads or touch screens."
This isn't the first talk of an Apple smart ring. In 2013 Topeka Capital Markets analyst Brian White predicted that Apple will introduce an Apple-branded HDTV (the "iTV") with an accompanying "iRing," a ring accessory that lets you control the set by pointing their finger. The "iTV" never happened. Could an Apple Ring be used with the Apple TV set-top box? Or with a Mac? With an iPhone?
White said the "iRing" accessory will act as a "navigation pointer" for the television. It will also allow the TV set to enhance motion detection and replace some of the functionality found in a remote, he added.