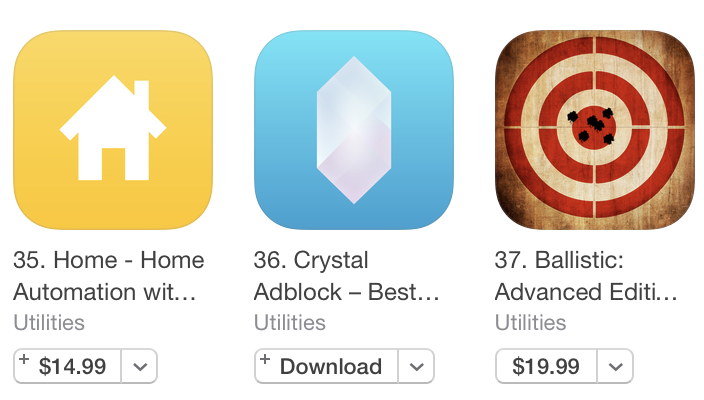 About two months ago, most of the chatter on the Apple websites including AWT was about ad blockers. There was a lot of concern that they spelled the beginning of the end for ad-supported websites, since most sites rely heavily on advertising to make money. Imagine my surprise last night when I saw this tweet from MacStories.net publisher Federico Viticci:
Two months after the launch of iOS 9, there are no Content Blockers in the Top 150 Paid charts for iPhone (US App Store).

— Federico Viticci (@viticci) November 19, 2015
Dave Mark over at The Loop did a search and found that the content blockers are all in the App Store's Utilities category. But even when looking in that category, Mark found that "the first paid ad blocker I encountered was Crystal at #36 and, remarkably, no ad blockers breaking the top #100 on the free list."
So what happened that made the genre of app that was making headlines two months ago fade away into obscurity? Mark thinks that it could be because content blockers are so easy for developers to create that everyone jumped into the market, causing so much dilution that it was impossible for any one app to make it into the top 100. But I think it's his second point that makes much more sense.
Mark says that "While iPhones are still selling like hotcakes, it could be that new buyers are not aware of ad blockers and the difference they make to the browsing experience." In fact, when I polled a group of iOS users attending an "iOS basics" class I teach regularly at the local community college, none of them knew what ad blockers were or how they could speed up mobile web browsing.
It appears that the craziness of two months ago regarding content blockers was really nothing more than a blogger-fueled tempest in a teapot and that most iPhone users really didn't care. Let's move onto the next manufactured crisis, shall we?