Even on this slow news day for Apple, there's plenty to hear about:
The new iPod touch brings 6x better performance than its predecessor, as well as new colors and capacities
Apple Watch will show up in New Zealand on July 31
A Hulu intern makes a cool Apple Watch app
I hope Neil Young will remember, Apple Music don't need him around anyhow…
Text only? It's below. But please consider subscribing to the podcast, OK?
This week Apple World Today has reviews of three Apple Watch charging stands: the Griffin WatchStand, the Nomad Stand for Apple Watch, and Fuse Chicken's Bobine Watch. Today I'm focusing on the US$69.95 Nomad Stand for Apple Watch.
Design
Of all of the Watch charging stands I've looked at, the Nomad Stand is certainly one of the sleekest. It's a single piece of aluminum in either a silver or space gray finish (sorry, no gold…), with a circular notch for the Watch charging puck and a channel in the back of the swoopy piece to hold the charging cable in place.
Two things about the design of the Nomad Stand bug me, however. First, there's no way for the Watch to be placed into the watchOS 2 "nightstand mode." The way this is designed, the Watch can only be oriented vertically, not horizontally. The second design problem is that there is no place to store or hide excess cable — and there's a lot of it on the 2-meter charging cable provided by Apple. That's one feature of the Griffin WatchStand that I really liked.
Finally, there was one other thing that I wasn't too happy with. The charging "puck" isn't flush with the surface of the Nomad Stand when it is inserted. Perhaps the puck included with the higher-end Apple Watches does sit flush when installed, but the white plastic Apple Watch Sport puck stuck out about 1/8-inch.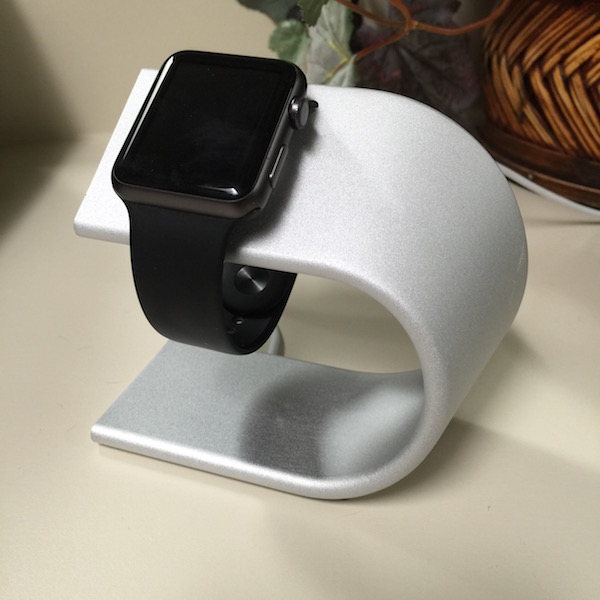 Function
Like all of the Watch charging stands Apple World Today is highlighting this week, the Nomad Stand is designed to hold the Apple Watch in place while it's being charged, and it does that admirably. The 7.6 ounce (215 gram) stand is heavy enough that it won't move on a nightstand, and it looks good.
However, there are virtually identical stands available on Amazon.com that are much less expensive than the Nomad Stand. Madsen Outlet sells one that's about $20 less expensive, while Mkeke (a line that seems to "borrow" other designs it also has a $19 stand that's identical to the Griffin WatchStand) has a $19.44 Nomad clone.
Conclusion
While the Nomad Stand for Apple Watch looks nice and is well-built, it's more expensive than identical clone stands, doesn't have any way to hold a Watch in nightstand mode, and it cannot hide the excess charging cable.
Apple World Today Rating (out of 5 stars): ★★★