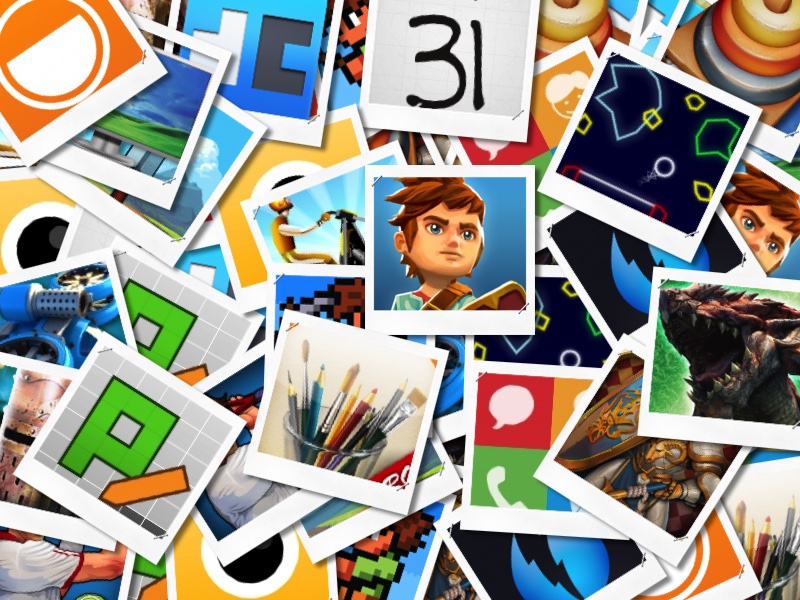 Here are some of the best free apps, app updates and new apps that have landed in the App Store recently. Today's notable apps include a discount on Warmlight – Manual Сamera & Photo Editor; the new Space Galaga International edition game; and a notable update to Dark Sky! All app prices are USD and subject to change. Some deals may expire quickly, so grab them while you can.
iOS Apps Now Free
breakeroids [$1.99 → Free] Defend the Earth from wave after wave of asteroids, armed only with a paddle and a bouncing ball. Drop the ball and you lose a shield – lose all your shields and the asteroids wipe out the planet.
Pixelogic – Picross Picture Logic Puzzles [$0.99 → Free] Pixelogic is a fun and challenging puzzle game where you use logic to reveal a hidden picture made of colored cells.
Game About Flight 2 [$0.99 → Free] Here comes the Game about Planes 2 with a great many upgrades from the previous version: -More plane and auxiliary fighter options -Higher level cap
Motion Tennis [$4.99 → Free] Motion Tennis™ allows you to play tennis using natural tennis motion gestures on your Apple TV or Mac/PC using AirPlay Mirroring. Your iPhone or iPod Touch becomes a motion controller while the action unfolds on the big screen.
Moto Race [$1.99 → Free] Moto Race – Collect coins and don't crash, complete the levels as fast as possible to achieve maximum score points.
AwesomeDial (Group Text, Message, Emoji) [$0.99 → Free] AwesomeDial which integrated group management, speed dial, and smart search provides you with a new experience of pretty and convenient contact information app.
Calendoodle – The Pen and Ink Whiteboard Calendar [$1.99 → Free] Welcome to Calendoodle, the app that allows you to write, doodle and mark up your calendar the way you want it!
Analog Film [$2.99 → Free] Analog Film is Real film based, film like filters.
Tayasui Sketches+ [$4.99 → Free] Because beautiful tools make beautiful drawings, we created Sketches with the more realistic tools available.
iOS Apps On Sale
Blurred Wallpapers – Custom Backgrounds and Wallpaper Images [$1.99 → $0.99] Meet the next generation of wallpaper apps: now YOU choose a unique look and appearance of your device in just a few slides.
Warmlight – Manual Сamera & Photo Editor [$1.99 → $0.99] Warmlight is a remarkably easy-to-use camera and photo editing tool. It lets you take professionally looking shots on iOS 8 and access extended image editing parameters for great results.
*
Evoland [$4.99 → $1.99] Evoland is an action adventure game that takes you on a journey through the history of classic adventure and RPG gaming.
BattleLore: Command [$9.99 → $3.99] Command valiant warriors and vicious demons in BattleLore: Command, based on the board game BattleLore Second Edition.
MONSTER HUNTER FREEDOM UNITE for iOS [$14.99 → $6.99] The world's most exciting hunting action game, Monster Hunter Freedom Unite, is now available for iOS!
Heroes and Castles 2 [$1.99 → $0.99] With one last cry to battle, you ready your sword and charge into the fray!
Terraria [$4.99 → $1.99] Adventure to the ends of the earth, and battle villainous bosses along the way. The world is your canvas and action-packed, sandbox adventures are just a pickaxe swing away!
Oceanhorn ™ [$8.99 → $3.99] You wake up and find a letter from your father. He is gone… The only lead is his old notebook and a mysterious necklace. What happened?
LIMBO [$4.99 → $1.99] Uncertain of his sister's fate, a boy enters LIMBO.
Mextures [$0.99 → $1.99] Mextures is the best app for applying film grain, textures, light leaks and beautiful gradients to your images in seconds.
MyBrushes Pro – Draw, Paint, Sketch on Infinite canvas [$2.99 → $1.99] MyBrushes Pro is a revolutionary, infinite canvas drawing app that allows you unlimited freedom to sketch, create and share.
Cars 2 World Grand Prix Read and Race [$3.99 → $2.99] Start your engines! Read along as Lightning McQueen and the world's top international racers power through the streets of Tokyo, Japan; Porto Corsa, Italy; London, England; and finally Radiator Springs in this original story!
Pomodoro Time Pro: Focus timer for work and study [$1.99 → $0.99] Pomodoro Time is a powerful personal productivity tool incorporating the principles of the Pomodoro Technique*.
Discounted Mac Apps
Display Desktop [$3.99 → Free] With just 1-click, Display Desktop will display your clean desktop!
DCommander [$19.99 → $1.99] DCommander is a two-pane file manager that gives you full control over your computer's filesystem.
Elements for iWork [$19.99 → $1.99] Elements for iWork is a collection of high-quality images for illustrating your slideshows, invitations, posters, newsletters, ebooks, or practically any kind of content.
1Password – Password Manager and Secure Wallet [$49.99 → $34.99] 1Password creates strong, unique passwords for every site, remembers them all for you, and logs you in with a single click.
Trine [$9.99 → $1.99] Trine is a beautiful fantasy action platformer with a fairytale-like atmosphere, following the journey of three heroes – a Wizard, a Knight and a Thief – in a quest to save the kingdom from evil.
BioShock Infinite [$29.99 → $9.99] BioShock Infinite puts players in the shoes of U.S. Cavalry veteran turned hired gun Booker DeWitt.
Trine 2 [$14.99 → $2.99] Trine 2 is a sidescrolling game of action, puzzles and platforming.
New and Notable Apps
Space Galaga International edition [$1.99] An unbelievable crossover between the popular anime Space Dandy and the classic game Galaga!
Chartcube: Data Presentation – Reporting, Analytics and Collaboration [Free] Data Presentation Reimagined – Instant, Mobile, Collaborative. Chartcube lets you create a data presentation instantly from a spreadsheet.
Updates you don't want to miss
Dark Sky – Weather Radar, Hyperlocal Forecasts, and Storm Alerts [$3.99] Dark Sky can tell you at a glance exactly when it will rain (or snow) up to an hour in advance, so you're free to walk the dog or run out to lunch and know you'll stay dry.. Version 4.3.4 includes the following changes:
Brand new layout, with a detailed hour-by-hour timeline for the next 24 hours (and for each of the next 7 days).
Advanced Notifications: In addition to providing down-to-the-minute rain alerts for the next hour, you can now create custom alerts covering the next 24 hours for things like temperature, precipitation, snow accumulation, wind, and more. We'll also push severe weather alerts from the government weather service.
A new weather reporter, so you can provide feedback on what exactly is happening out your window.
iPhone 6 users can opt in to have their phones automatically provide us with pressure sensor data. This has the potential to dramatically improve our short-term forecasts in the future.
Significant speed improvements when launching the app.
UV Index. Because it's summer, and you need to protect your delicate skin.
Landscape on the iPad (even my wife was complaining about that one).
Level Money: Manage Money, Budgets and Personal Finance [Free] Level Money's award-winning free personal finance app is a simple tool to automatically analyze your financial picture. . Version 2.5 includes the following changes:
Non-monthly income and bills are supported
Automatic adjustments for income and bills that fluctuate
View income and bill predictions based on your history
Set aside funds every month and track spending for unpredictable expenses
Refunds affect Spendable
Switch on "burn rate" mode to make your account balance last