May the Fourth Be With You! There's some futuristic Jedi mind control of your home devices coming soon. For that and other news of Apple, check out today's podcast.
YouTube disappeared from second-generation Apple TVs last night
Facebook may become your go-to source for content from news providers in the near future
General Electric announces a HomeKit-compatible color-changing LED light bulb
Belkin updates its WeMo app to give the LED light bulbs it sells full IFTTT compatibility
The full text version of the podcast script is available below.
mrow!
My name is Pippin, and my human is Steve who you know from this website. I'm a little over a year old and I'm a cat, so Steve asked me to write about this thing called Petcube ($199, affiliate link) that I let him play with. It's a little hard typing by walking around on this keyboard thingy, but Steve said he'd edit what I wrote so here goes…
Petcube sits on Steve and Barb's dresser across from the kitty condo I share with Merry, the stupidest cat in the world. Well, she's cute, but dumb, and I love her anyway. It's a silvery-looking box with a shiny front; Steve called it a cube and said it's four inches on each side, whatever that means. All I know is that it's too heavy (1.3 lbs) for me to move much.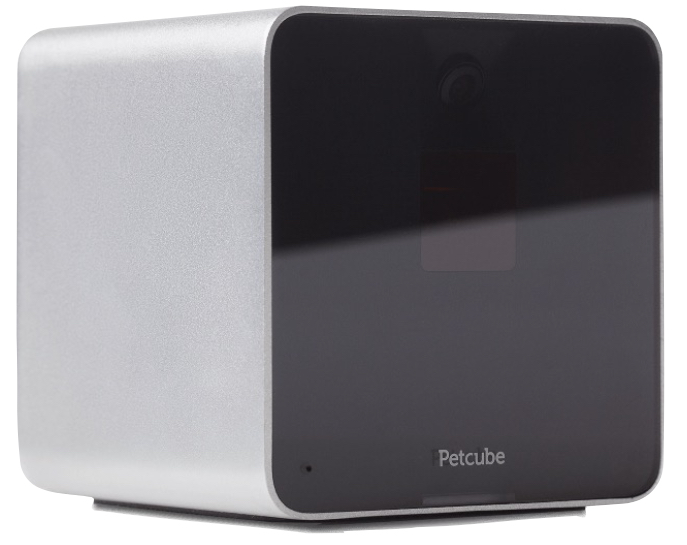 The only time Petcube does something seems to be when my humans are away from my house (I wish they'd take me somewhere, but not to the vet. Nope.). Then sometimes when I'm taking a nap on the kitty condo I'll hear one of their voices and when I look around I see THE RED DOT. Steve told me that's a beam from a 5mW 3R class laser, but all I know is that it's fun. It moves around on the floor and me and Merry chase it around. I'm not sure why we haven't been able to catch THE RED DOT yet, but we sure try.
purrrr.purrrrrrrrr.
One day I saw Steve moving his finger around on that thing he calls his eye-Phone, although it doesn't look like an eye and I saw that it had a picture of my kitty condo on it. But he'd move his finger to the left and THE RED DOT moved that way, or he'd move it up onto the picture of the kitty condo and THE RED DOT climbed the condo! Steve's eye-Phone has some amazing powers.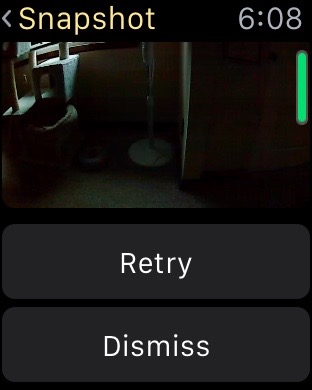 Steve also has a new cat toy that he puts on his wrist and an Apple Watch, but it doesn't look like an Apple. He says that he can use an "app" on his wrist to keep an eye on me and Merry. How can he do that?
When he was talking to me about writing this post, Steve was scratching under my collar (feels SO good!) and said that his "app" thingy on the eye-Phone could let friends or even complete strangers who love cats watch what Merry and me are doing. I don't like strange people very much, unless I can smell them and rub against them and figure out if they like me or not, so I hope Steve doesn't let those people watch me.
One day Steve showed me a picture that he had taken of me playing with THE RED DOT. He said that he shared it with other humans through the "app". That's good, because I'm a cute guy and I want everyone to see me.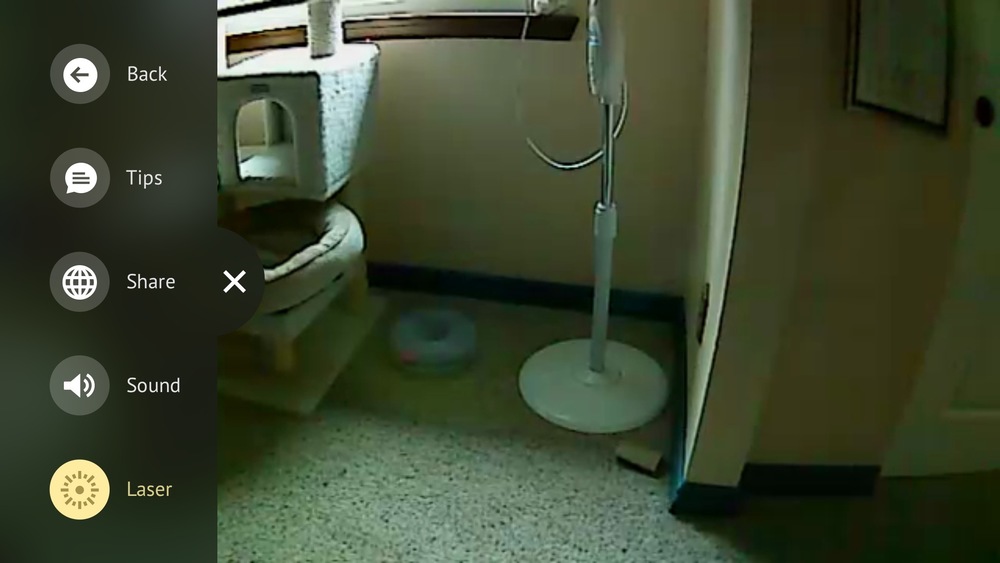 Oh, one other thing. There's a little light on the bottom of the Petcube that's usually white, but being the observant cat that I am, I noticed that it turns blue just before I hear voices and start to see THE RED DOT. Maybe the blue light has a voice? Anyway, Steve got angry one night and unplugged the Petcube because he said the white light was too distracting in the dark. He said something about the Petcube makers needing to give him the power to turn the light off from the app thingy.
Now Steve said I have written enough and to get off of his keyboard. I thought it was mine. Anyway, he asked me to give the Petcube a score out of five paws, so I give it a four. It's a lot of fun and I like when he and Barb play with me and Merry when they're not home. They seem to like that they can see me when they're not here. Steve just said that the light problem was annoying and the cost was a bit high, but that he thought it was really a nice thing for humans to have.
Whatever. I need a nap. Laters. Yawwwwwwwwwn.
Apple World Today Cat Rating (out of five paws)

By the way, Steve says that if you'd like to see Caturday photos of cats and their Apple products again, you should save those pictures in the cloud and then send a link to him.