OS X 10.11 El Capitan just became available for download and installation by Mac owners. Here's a quick guide on how to make a fast and easy transition from OS X Yosemite to OS X El Capitan.
Check your system to make sure it can run OS X El Capitan
If your Mac is running OS X Yosemite, your Mac can run El Capitan as the two operating systems have the same system requirements. If you're doing an update from an earlier version, here's a list of the minimum Mac models that can run El Capitan — just know that the Mac must have a 64-bit CPU, meaning an Intel Core 2 Duo or newer processor:
iMac (mid-2007 or newer)
MacBook (13-inch aluminum late 2008 or 13-inch early 2009, or newer)
MacBook Pro (13-inch mid-2009, 15-inch mid/late 2007, 17-inch late 2007 or newer) MacBook Air (late 2008 or newer)
Mac mini (early 2009 or newer)
Mac Pro (early 2008 or newer)
Xserve (early 2009)
You can check the model year of your device by clicking the Apple menu and then selecting "About this Mac":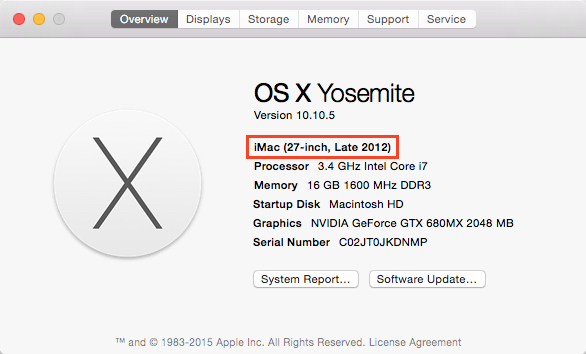 Make sure your machine is backed up
You always keep your Mac backed up with Time Machine, Carbon Copy Cloner, SuperDuper! or any of the online backup services, right? Just be absolutely sure you have a current backup (or two) before you start the update just in case something goes wrong during the update to El Capitan.
Check for the update
If you were expecting the update to show up under Updates like I was… well, you unnecessarily delayed your update. The updater file can be downloaded from the big banner under the "Featured" section of the Mac App Store or from the right sidebar of the Mac App Store.
It's always a good idea to run any other updates that might be available before running the OS X update. This morning, my iMac had an Xcode update and a security update waiting, so I ran those knowing full well I'd be updating to OS X El Capitan later.
Run the update
My suggestion? Don't try to be the first kid on the block to install a new OS X version. Why? Well, on occasion in the past there have been Apple OS updates that have had issues, meaning that those who were patient and waited a few hours were saved from having to do a complete reinstall rather than a simple update. Once you've heard that things are running smoothly on social media or here on AWT, go for it.
Apple's download-only OS updates are much faster and more convenient than those old days when we drove to the Apple Store to buy the latest installation DVD, and the operating systems now get a much more complete beta testing period than ever before thanks to developer feedback and the Apple public beta program.
Do you want to do a clean install instead?
Some folks I know choose OS updates like this one to re-install everything on their Mac. Clean installations take a lot longer, but the basic idea is that you're not just overwriting older OS files — instead, you're wiping the startup drive of your Mac clean using Disk Utility (available from the Recovery Partition, which appears when you hold down Command+R at startup) and then installing a fresh copy of the operating system onto the Mac. My opinion? Unless you really have a lot of time on your hands, just do the standard update. It will take a lot less time than doing a full clean install and chances are very good that the update will go smoothly.
Have fun with the new features of OS X El Capitan
Most of the early reviews of OS X El Capitan point out that it's like a tune-up for your Mac. Core pieces of the operating system have been re-written to optimize speed, and every Mac should see an improvement in everything from app launch times to faster previews of PDFs. Most built-in apps have also been tweaked to provide Mac owners with the most efficient user interface, which should further improve the El Capitan experience
Let us know how things go for you when you update to OS X El Capitan, and how you like — or maybe aren't thrilled with — the changes.