Portland's Grovemade is one of my personal favorite accessory manufacturers for a lot of reasons. Sure, they make amazing and beautiful accessories that are handcrafted from wood, but the company's entire philosophy of thoughtfulness shows through in every product. The new Walnut Laptop Stand (US$119) is a perfect example of this philosophy, melding laminated walnut veneer, leather, and stainless steel into a graceful, beautiful and functional stand for your favorite MacBook.
Dimensions
Front Base Width: 18″
Rear Base Width: 20.5″
Front Height: 3.25″
Rear Height: 6″
Depth: 11.5″
Laptop Surface: 15″ x 8.5″
Steel Stop Width: 11″
Thickness: 0.5″
Design
What can I say? The Walnut Laptop Stand is a work of art. In a perfect example of form following function, the stand defines the volume needed to hold a MacBook at an angle so that the screen faces the user almost vertically. Underneath is space for "stuff", like the $99 Walnut Keyboard Tray holding an Apple Wireless Keyboard.
At the very front of the smooth finished walnut stand is a stainless steel stop to keep your laptop from sliding off. That stop is lined with leather to protect the front edge of your MacBook from scratches. There are small cork feet on the bottom of the stand to protect the surface you're placing the Walnut Laptop Stand on.
Functionality
The idea of this stand is to assist in turning your laptop into a "desktop" machine with separate keyboard and pointing device, using the laptop display as your primary screen. If you want to use the MacBook in closed clamshell mode, you'll be better off with something like the equally nice TwelveSouth BookArc möd ($59.99).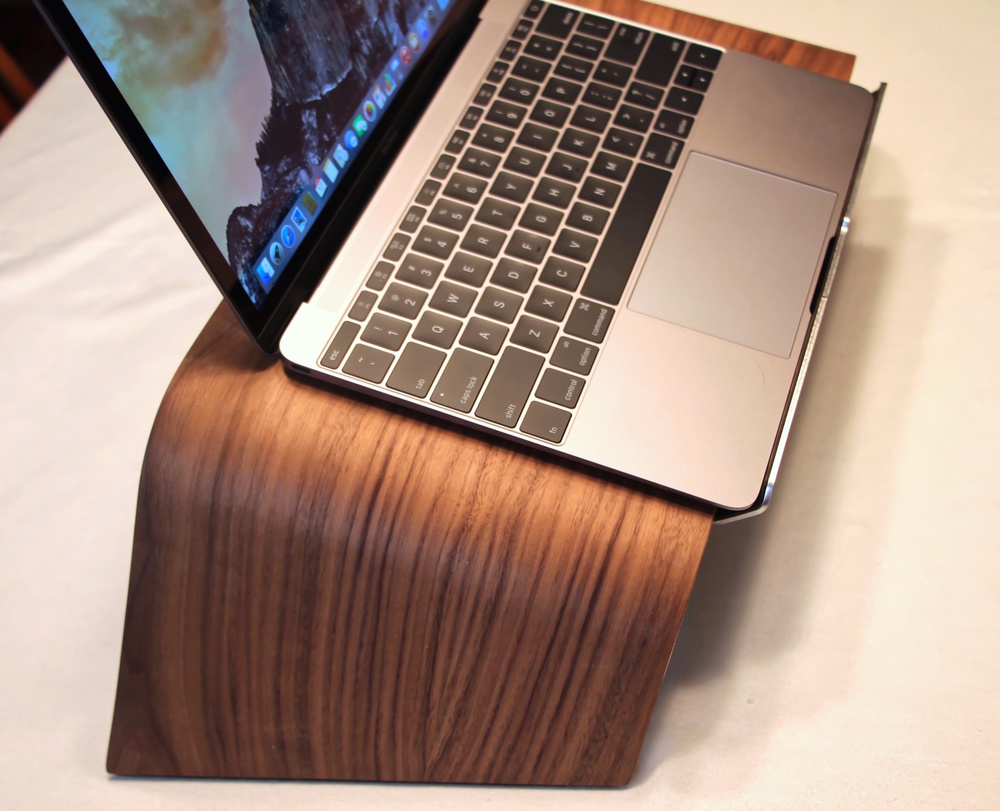 When used with most Apple MacBooks (11-inch through 15-inch), the Walnut Laptop Stand places the display right where it should be for ergonomic use. I found with the 12-inch Retina MacBook that my eyes were looking slightly down at the top third of the display, which is quite comfortable for long-term use. Trying the stand with a 15-inch Windows laptop (don't worry, it wasn't mine), my line of sight was almost perfectly horizontal to that same point on the display.
Conclusion
Grovemade's Walnut Laptop Stand is not only a useful laptop accessory, but a beautiful piece of furniture as well. It may be a bit on the expensive side, but you're definitely getting quality and beauty in a laptop stand that will last you through a lifetime of MacBooks.
Apple World Today Rating (out of 5 stars possible): ★★★★★