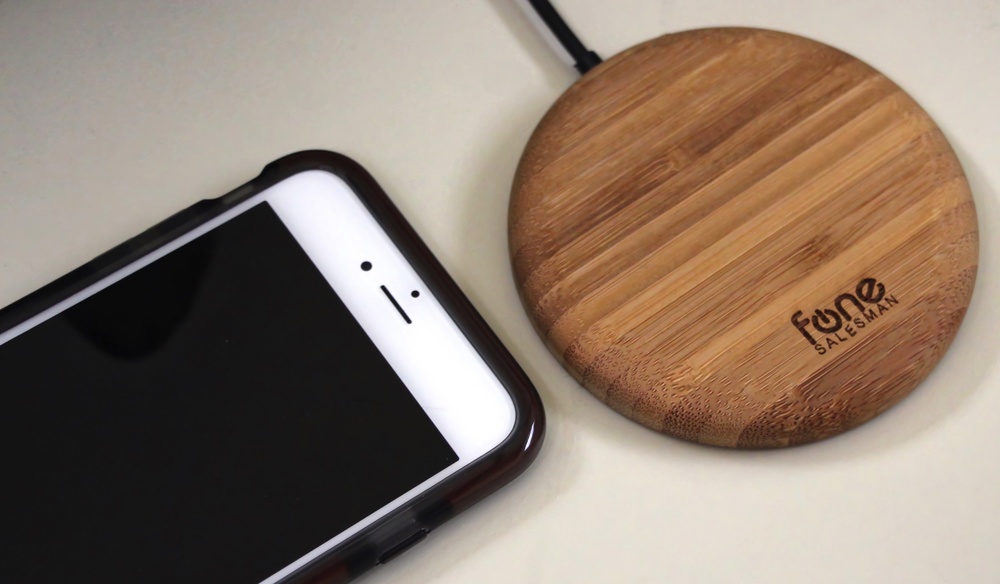 The Qi (pronounced "chee") inductive power standard is designed to make charging of electronic devices easy. By placing a Qi receiver that's either connected to a device or built into it near a Qi charger, induction provides a way to charge the device without plugging it in. The Apple Watch will work this way, although as far as we know it doesn't comply with the Qi standard. So how come we still can't charge our iPhones wirelessly? Well, with a Qi receiver from Fone Salesman and one of their Wood Puck chargers, you can.
Receiver:
The receiver is called the iQi Mobile (US$21.99) and it works with any Lightning port iPhone. While I haven't dissected the receiver yet, my guess is that it consists of a flat wound wire "antenna" connected to some simple circuitry. The idea is for you to use the receiver with your iPhone in a case, which is fine since I use a simple (and easy to remove) translucent plastic case to protect my iPhone 6 Plus most of the time.
The receiver plugs into the Lightning port on the bottom of the iPhone, and the paper-thin "antenna" portion and cable are folded over to the back of the iPhone. In the photo below, you can see it through the back of the case.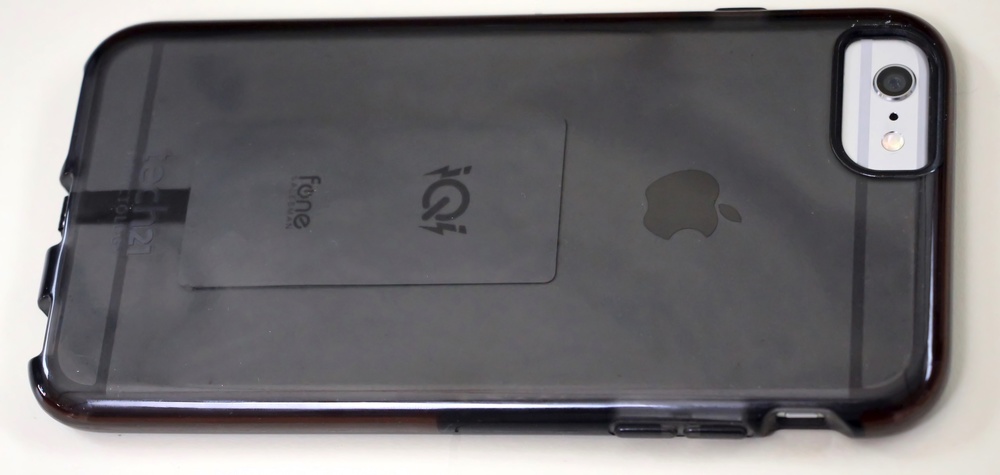 Wood Puck Bamboo Edition
If the iQi Mobile is the power receiver, then the Wood Puck Bamboo Edition Charger ($32.99) is the transmitter. The Wood Puck Bamboo Edition is quite nice looking, providing the natural look of wood to a charging device. Plug your standard iPhone power block into the wall, run a USB to micro-USB cable (not included) from the block to the charger, and you're ready to go.
Charging is extremely simple; you just put the iPhone onto the Wood Puck face up, and a beep from the charger tells you that it is sending power to your iPhone. You'll also get a "charging" symbol on your iPhone battery indicator.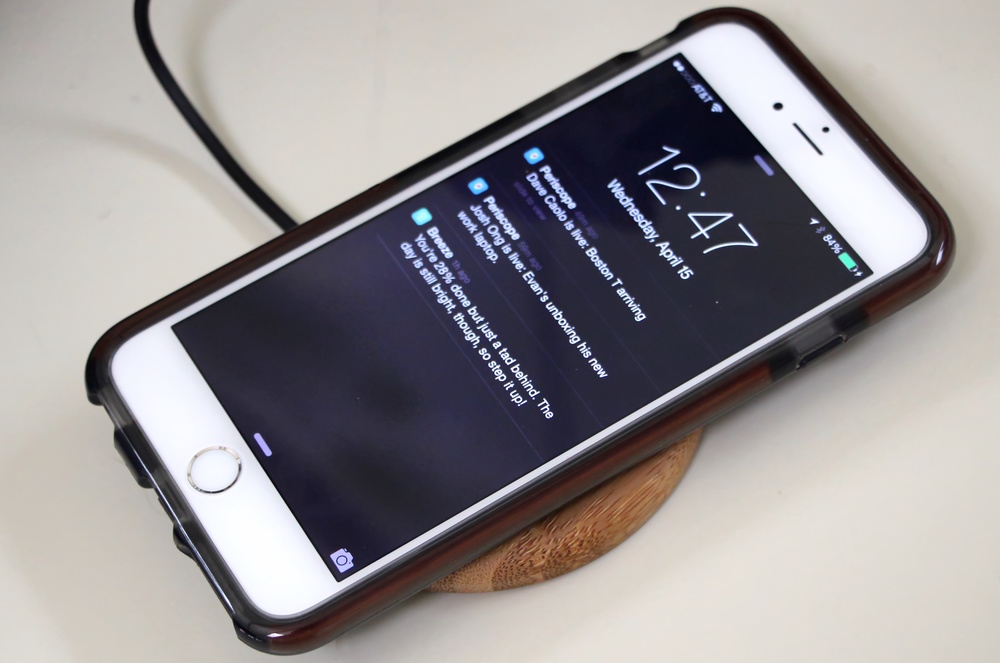 Conclusion
There are four negatives I see with this charging combo: first, the cost is quite high at over $55 for the receiver and charging puck. Second, if you're like me and need to plug your iPhone in for other reasons on a regular basis, any time savings gained by not having to plug a cable into your iPhone for charging are gone every time you need to remove the receiver. Next, you're not really losing a cable — it's still there, connected to the puck rather than the iPhone. And finally, charging is actually slower through the iQi receiver as it's only delivering 600 mA of current to the phone.
However, if you're entranced by the idea of not plugging a cable into your iPhone every time you need to give it a charge, this is a good-looking accessory that performed well in my testing.
Apple World Today Rating (out of 5 stars): ★★★