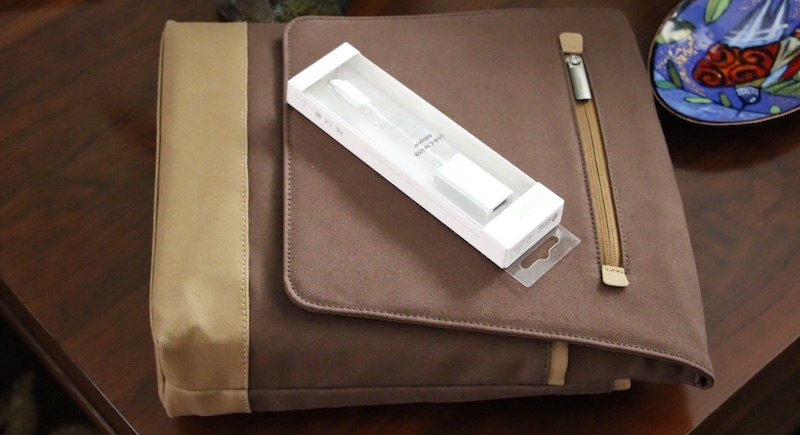 Apple's 12-inch Retina display MacBook shook up the computing world when it came out earlier this year. It not features only just one port — a USB-C port that's used both for charging and connectivity — but it is incredibly small for a laptop. Fortunately, accessory manufacturer Moshi has come to the rescue of MacBook owners with two new products to keep your Retina MacBook company: the USB-C to USB adapter (US$24.95) and the Aerio Lite vertical messenger bag (US$99.95).
USB-C to USB Adapter
Apple knew that upsetting the proverbial apple cart (see what I did there?) with a new USB connector format would require some intermediate cables, so one of the first accessories available was Apple's USB-C to USB adapter ($19.00). Moshi's adapter is almost $6 more expensive, so what are you getting for the extra money?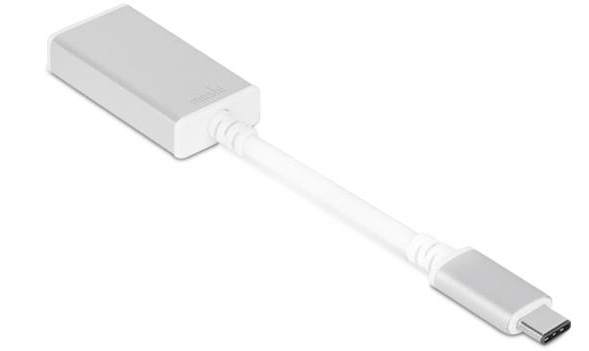 Apple's adapter is all plastic while the Moshi adapter is surrounded with anodized aluminum. Moshi says that the aluminum casing will provide extra electromagnetic shielding, insuring that the USB 3.1-compatible adapter can achieve that 5Gbps maximum transfer speed.
Like the Apple adapter, the Moshi USB-C to USB adapter can also handle up to 3 amps of current, perfect for charging your MacBook from a regular USB cable if you've misplaced the power brick.
Conclusion
Looks aren't everything, and considering that third-party USB-C to USB adapter cables can be had for as little as $10 elsewhere, I can't really recommend spending the extra money just for a shiny aluminum casing.
Apple World Today Rating (out of 5 stars): ★★★
---
Aerio Lite Vertical Messenger Bag
Now this is a product I can get behind. Moshi designed the Aerio Lite as a vertically oriented messenger bag that would work not only for the 12-inch MacBook, but also for a variety of iPads. In fact, if next Wednesday's Apple event does reveal a new "iPad Pro", the Aerio Lite should be able to carry it with ease.
The Aerio Lite comes in two different finishes: sky blue polyester/cotton canvas with tan highlights and cocoa brown with the same tan highlights. It's an attractive bag with padding all around the interior pockets. I was able to easily handle two iPads in keyboard cases and the MacBook in the interior.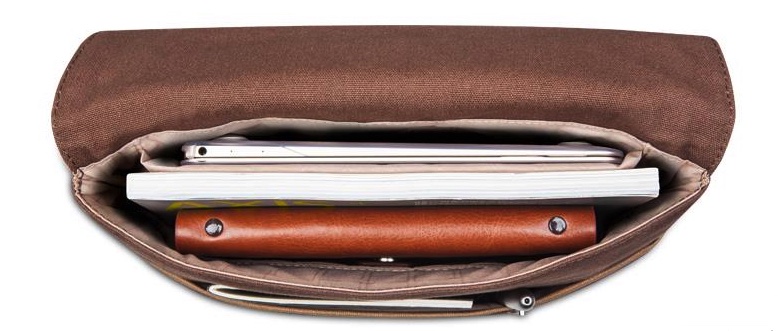 The interior is sealed from the outside by a magnetically latched flap. There's a large magazine pocket on the back of the bag, a big pocket on the front with a "sub-pocket" inside it, and even a zippered pouch on the flap for those things you don't want to lose.
For carrying the bag, there's a long — although unpadded — strap. It has a buckle on it for adjusting the length to a comfortable setting.
Conclusion
Don't need a huge backpack or overpriced carrying bag for your little MacBook and iPads? The Aerio LIte is a good-looking and protective piece of gear that should keep your devices free from damage for years to come.
Apple World Today Rating (out of 5 stars): ★★★★
---
Just a note to our Patreon patrons: We'll be giving away the Aerio Lite Vertical Messenger Bag and the fast, but overpriced USB-C to USB adapter to one of you. Check out the patron Slack channel for details on how to enter.