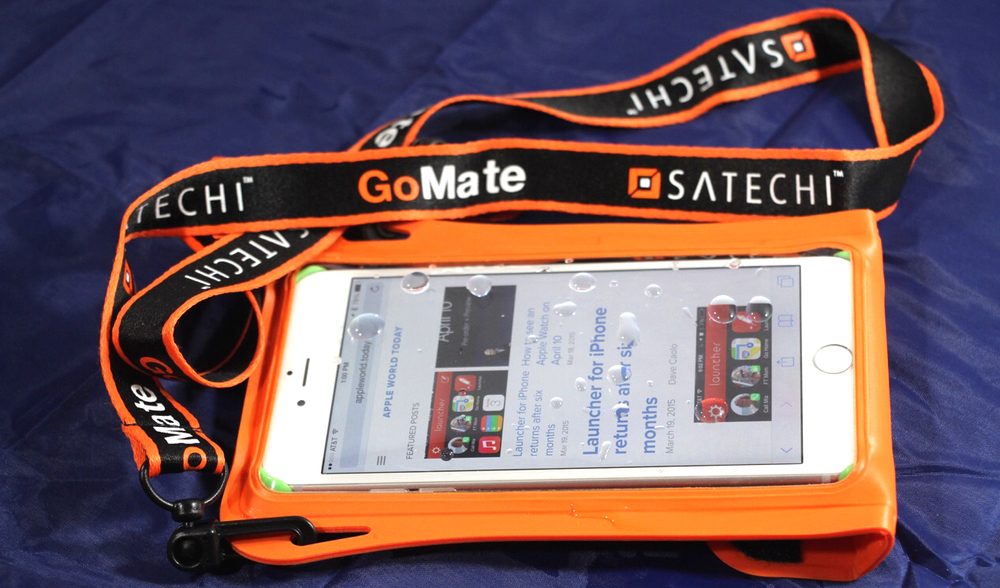 Satechi has a great idea for anyone who spends time around water with their iPhone, whether it's a day at the beach, trout fishing on your favorite stream, or paddling a kayak on the local pond. It's called the GoMate (US$19.99, affiliate link) and it's a waterproof case for any iPhone except the iPhone 6 Plus.
Basically, you can think of GoMate as fancy Zip-loc bag with some additional features that make it perfect for fun in the sun (or rain). The GoMate comes in three colors — orange, black and white — and all you need to do to get full IPX8 waterproof protection in up to 20 feet of water is to slide your iPhone in top first with the screen facing the clear material, squeeze the "zipper" closed to ensure watertightness, and then fold over the Velcro™ tab to ensure that your phone is locked in. There's an included lanyard that locks into a pair of hook holes, so you can carry your protected iPhone hands-free.
The clear plastic over the screen transfers your taps to the iPhone with no issues. Of course, you won't be able to use Touch ID while your iPhone is in the case, but it's quite easy to remove the phone if you need to make an Apple ID purchase. There's even a clear window on the back of the GoMate so you can shoot pictures or video while keeping your iPhone protected from water and sand.
Satechi makes good products and has a great reputation, but it should be noted that there are other similar products available that may fit your needs at a lower cost, for example:
Of course, the GoMate doesn't provide protection from drops or impacts, so something like the LifeProof Case ($69.96, affiliate link) may better suit you.
If you're looking for a rather inexpensive waterproof enclosure for your iPhone, the Satechi GoMate will certainly do the job and it's definitely from a trusted provider.
Apple World Today Rating (out of 5 stars): ★★★★