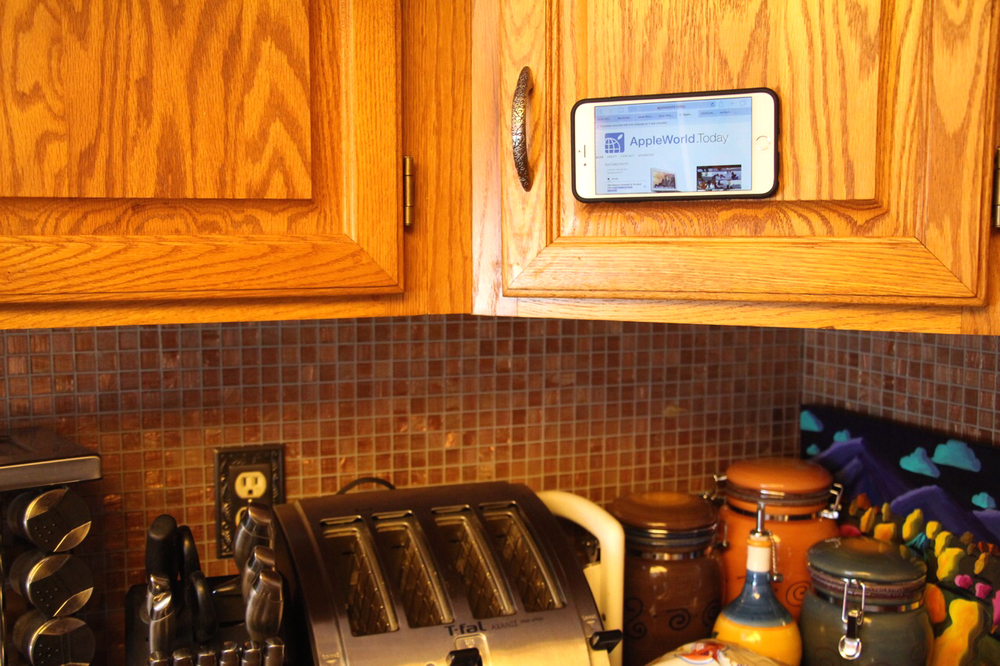 There are a lot of iPhone cases on the market that use nano-suction material to affix the case to the iPhone, `but this is the first case I think I've seen that uses nano-suction to let you stick the case on just about any clean, flat surface. The Zero G case from Mega Tiny Corporation is currently in a Kickstarter campaign for funding, and if the pre-production device I reviewed is any indication, this could be the wooden stake to put through the heart of selfie sticks.
Why? Well, imagine you want to take a photo with some friends. Instead of pulling out the selfie stick and looking like a total fool, you just walk up to anything with a flat and clean surface and slap the iPhone onto it. It sticks, you take the photo with the self-timer, and then you pull your iPhone (and Zero G case) off that surface and head off.
That's not the only use case for the Zero G — while testing it, I stuck the case and iPhone 6 Plus combo to kitchen cabinets, my iMac screen (for doing some Periscope videos!), a mirror, and even the headboard of my bed. In each case, it stuck like glue to the surface until I needed my iPhone, at which point I just gave it a tug and it came off without damaging the surface. When the nano-suction material on the back of the prototype got a little pocket fuzz on it, I just took the case off and ran some water over the back to clean it up.
Now the prototype I have is basic black, not that exciting to look at, and doesn't even have the little cutout on the back of it shown on the Kickstarter page to reveal the Apple logo. But it works, and Zero G is surprisingly useful.
Right now you can get a Zero G for $39 (the $34 early bird is sold out), or two of the cases for $59. The campaign just started and is 22% funded with 29 days to go. I think the Zero G is go for launch!